ALL BIKES FREE Ship 48US
FIVE"TRAVEL FULL SUSPENSION MIDFAT BIKES
Gravity FSX BOOST MONSTER 2BY w/27X3" TIRES,
LOCKOUT FR/RR, SHIMANO DEORE 2X10 Full Suspension Boost Spacing, ThruAxle FR/RR
Click to see enlarged photo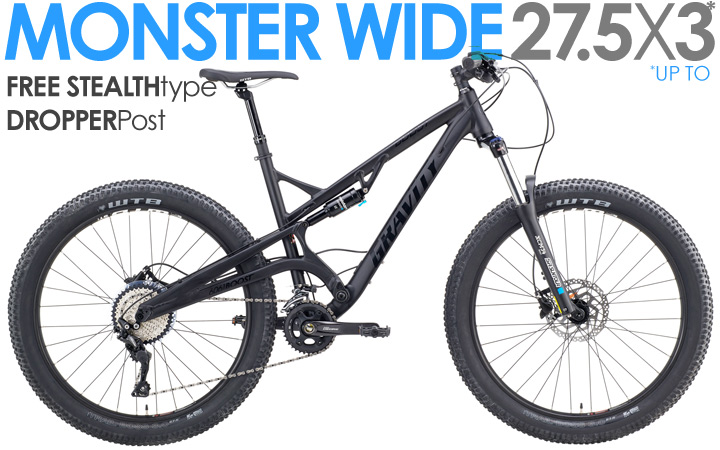 Advanced ThruAxles, Lockout FR/RR, Powerful Hydralic Disc Brakes, Normally $200 Upgrade
PLUS Folding Bead Tires (worth $150+) WTB TCS Tubeless Compatible wheelset worth $400+ (See tubeless info FAQ page)
Above: MatteBlack above or MatteElectron (blue) Below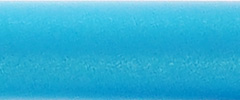 Click Links For>> Specs | Customer Reviews | Quick Sizing Guide | Geometry
IMPORTANT: READ THIS PRIOR TO ORDERING

SALE FAQ: Q: How is this price so low, near comparable dealer wholesale? It's hundreds to thousands below other brands similar spec bikes, What corners are being cut? A: No Corners have been cut on quality. BikesDirect has cut expenses by selling direct to you AND : 1) Minimal Advertising, 2) NO Sales Commissions, 3) No physical store overhead, 4) No inflated Corporate pay structures
The Deal: bikes are available for PrepayShipsSep4to24/2020 Approx Dates, May ship earlier or later by a few days. See Pull down menus below. Warning: bikes always sell out fast so order now *Order now to lock in your sale price and selection. Price Rises As Sales Goals are Met.

The Process: When you order, your card will be billed for the full amount. You'll get an auto-email the next business day. Fri. Sat. Sunday orders get emails on Monday. Weekends/Holidays are not counted as "days".
Your Shipping Address: Please ensure it's correct when you order. Last minute changes incur delays and/or extra costs. Your address can be changed on the 3rd page of checkout. Click on "change" beside the address. Tracking shows movement around the approx ship dates. When they ship, most take 5 to 7 days to arrive by Ground (Not inc. Weekends/holidays)
27.5X3" TIRES, Boost, Full Suspension, FIVE INCH TRAVEL, SHIMANO DEORE 2X10 MTB

5"TRAVEL, 2021 Gravity
FSX BOOST MONSTER 2BY
HUGE 27X3INCH TIRES
MSRP $2799 SALE $1299.95
Ships Signature Required

SHIMANO DEORE 2X10 Drivetrain
LOCKOUT FR/RR SUSPENSION
MONSTER FAT 27x3" TIRES
LONG Travel SInglePivot Kinesis Design
Advanced BOOST Hub Spacing
THRUAXLE LockOut Forks
Powerful Hydraulic Disc Brakes
Tapered HeadTubes

Save up to 60% Off List Prices
Buy Factory Direct from Bikesdirect
*not all tires fit, may require different rims/tires
Compare to $2700 Trek, Giant Mid FAT Full Suspension Bikes


Use menus below to select size/color
Go thru Checkout for stock status
Quick Sizing Chart




We accept Visa/MC/Disc/Amex. PayPal is optional

Price Includes Ground Shipping
to 48 United States
(5 to 7 Day Delivery) (AK/PR/HI addtl charges)
(Email us for Delivery to PO Box/APO/FPO)


Share this: | Twitter this: | More:

Pay with your US Issued Visa, MC, Disc, AMEX Cards. You do NOT need to use Paypal
We have sold thousands of Gravity Full Suspension Mountain Bikes. The Gravity Aluminum frames have some of the best quality and design for the money we have seen. Customers who own Gravity Bikes send friends and family to buy these excellent bikes all the time.
Here is what just a few Customers say about Gravity Bikes:

New Mexico. Joey V.
"…on a Mountain trail with a friend who is highly experienced with MTB and stayed toe to toe with them...took on some tough rocks and some tough bumps without any malfunctions. I Am falling in love with my bike and Im super happy with my buy...I give this bike a high score. Not only does it perform on the Mountain but it gets me to and from work....get one hell of a deal by buying this nice piece of equipment . Very pleased..."

Ethan
"..this bike is amazing...out lasted our "top of the line" brand name."

Dee
"Overall, great bike....held up well through small jumps and steep DH."

David
"Assembly was easy and straight forward...this Gravity FSX Mountain Bike is several steps above any bike I have purchased to this date. I have been to bike shops that sell top end mountain bike for several hundreds of dollars more that have big name brands on them that do not compare....a great bike for a great price and highly recommend it for the beginner to intermediate riders...a very satisfied customer."

John H.
"... this bike is all me!I can fly down hill on this bike and stop on a dime, or veer hard with it…Going up hill, if you got the leg power and the lungs it'll do it....get a lot of compliments on the bike's sleek look too."
Tempe, AZ
"..a great bike so far. Looks dope, and rides good! Also, super quiet....Personally, I'd give it a 9/10."

Buy Your FSX now with shipping included to 48 states.
This FSX BOOST MONSTER 2BY Upgrades from FSX Boost COMP to:
FULL SHIMANO DEORE 2X10 Drivetrain, MONSTER SIZE 27.5X3 INCH Folding Bead TIRES + FREE StealthType Dropper Post.
Also available in SRAM EAGLE 1X12 version
Unheard of Price for This Level Of Tech. Get Thru-Axle, Boost Full Suspension w/Lockout Forks. MONSTER 27PLUS x THREE INCH SUPER WIDE TIRES!*
If you have ridden one you know why you want one. If you have ever wanted to try one, this is the best deal; spec for price anywhere on a 27PLUS 5INCH TRAVEL Full Suspension Fatbike with BOOST Hub Spacing. Extremely capable with Hydraulic Disc Brakes- rated by magazines as the best - Way better than v-brake systems and more powerful. (*different tires require different whls/tires you provide)

SWEET HANDLING TOP TECH, KINESIS ENGINEERED DESIGN
Co-designed by Kinesis and Gravity. Kinesis is one of the best frame designers and factory in the bike industry. Features an Advanced HydroFormed aluminum frame + Advanced Suspension Fork with FRONT LOCKOUT and THRUAXLES Front and Rear with Top Rated, trail-ready geometry.
Advanced Single Pivot Full Suspension Technology with LEAPP (Linear Extended Axle PivotPath):
Features the most advanced and durable single pivot design we've seen to date. Single Pivot designs tend to be Lighter and more durable, less maintenance than most competing multi-link designs. LEAPP = Linear Extended Axle Pivot Path, the downtube mount of the rear suspension is designed to extend the main pivot point further forwards which creates a more vertical rear axle path= smoother suspension action.
Trail Commanding Performance: SUPER SHORT Chainstays PLUS Slack Head Angles. Fully modern design with sleek internal cable routing and compatible with StealthType internal routed dropper seatposts.

What is Boost: Boost is a new dropout standard designed to widen the hubs on the previous standard MTB spacing wheels. The rear axle is wider by 6mm to 148mm and the front axle by 10mm to 110mm. Wider flanges = wider bracing angle for spokes = a stronger and stiffer wheel. Allows the use of 29er wheels with higher strength and stiffness for top performance. Also, More tire clearance, ability to use 27PLUS tires and with shorter chainstays for superior handling and climbing.
NOTE: This is a brand new factory direct model with the newest features and not yet on the Gravity USA site

27.5PLUS VS 29er
27Plus is lighter and more nimble than a normal fat bike and roll over obstacles better most any other tire size. Fits smaller riders than the 29ers too. The 27.5 PLUS / Mid Fat mountain bikes will have the best of all worlds. The agility of the 26" wheel and the big wheel experience of the 29er mountain bikes with the cushion, super grip and flotation of a fat bike. Larger and Heavier riders benefit from the extra air volume in the 27PLUS tires.

29er version accelerates and rolls faster but not as much flotation over soft surfaces as the 27PLUS.
COMPETITION READY
Specified with competition-ready components and has geometry based on careful research and trail-testing. Please compare this bike directly against any other manufacturers SHIMANO DEORE 2X10 equipped $2700+ 27.5PLUS capable Full Suspension bikes on the market. Their bikes are likely heavier or not as well equipped or not 27PLUS capable or Not Boost spacing. They certainly will cost you hundreds more.

How Can We Sell At This Price?
We sell Factory Direct so you pay a price close to what a local dealer would pay at wholesale cost for a comparably equipped bike. Thus, you get a better equipped bike for hundreds less - often saving up to 60% off List prices. The only thing you have to do is a bit of tuning and assembly.

Get yours before they are all gone

WTB Says:"Say goodbye to air compressors, tire levers and pinch flats. Say hello to your full riding potential."
"...the solution for riders seeking high performance, lightweight and durable mountain bike wheel systems...
easy to install, fun to ride and simple to service..."*(addtional parts required and not included, See Tubeles FAQ page)"...
Read more about the incredible tech's features and benefits: >Click Here<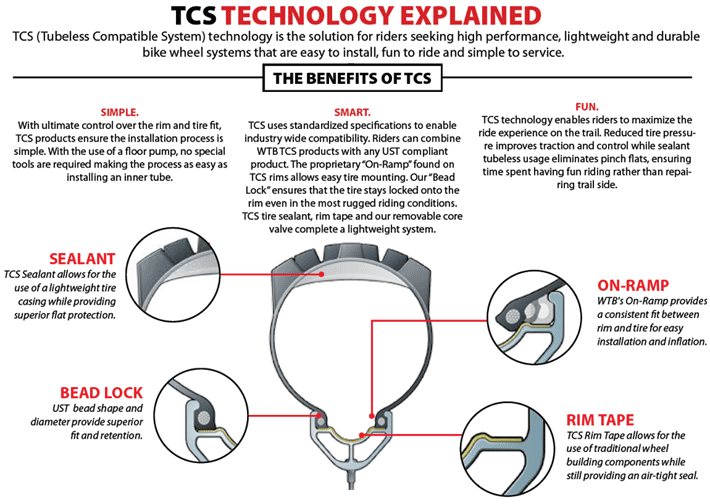 Features Advanced Tubeless Compatible Wheels worth $400+. Features incredible ride quality + virtually flat free performance (See FAQ page for Tubeless system setup)
FSX BOOST Sizing Guide:

15" - fits most 5'6" to 5'8"
17" - fits most 5'8" to 5'11"
19" - fits most 6'0" to 6'2"
21" -fits most 6'3 to 6'5"
(*approx. sizing - your final choice is up to personal preferences.)
Frame
Up to 5 Inch Travel, New Kinesis Engineered, 27.5 PLUSCapable Full Suspension Boost Design with LEAPP (LinearExtendedAxlePivotPath), Oversized, Custom HydroFormed TIG Welded 6061 Aluminum with Hydroformed tubes. Internal cable routing, SteathType Dropper post routing. Advanced Single Pivot Rear Triangle Swing Arm with replaceable rear derailleur hanger
Fork/Rear Shock
SUNTOUR SF19-XCM34 BOOST, TRAVEL 130mm, 27.5", Steerer: 1.5" to 1-1/8" tapered) CROWN: ALLOY, STANCHION: STKM CP FINISH , BLADE: ALLOY , 15mm-110MM THRU-AXLE, 160mm POST disc mount, COIL W/PRELOAD ADJUSTER / SUNTOUR RS20-RAIDON-LO REAR SHOCK , AIR , EYE TO EYE:190mmX51mm, Rear Suspension Travel is Up To 5 Inches
Crankset
SRAM SX EAGLE B148 POWERSPLINE 175mm 32T
Bottom Bracket
TRUVATIV POWER SPLINE 118 /68 CARTRIDGE
Pedals

Mountain Platform

Front Derailleur
SHIMANO FD-M4100-M, DEORE, FOR 2X10, SIDE SWING, FRONT-PULL, 34.9MM BAND
Rear Derailleur
SHIMANO RD-M6000, DEORE, GS 10-SPEED, SHADOW PLUS DESIGN
Shifters
SHIMANO SL-M6000 DEORE, 2X10-SPEED RAPIDFIRE PLUS
Cassette
SHIMANO CS-HG500-10, 10-SPEED, 11-13-15-18-21-24-28-32-37-42T
Chain
KMC X10 SUPER NARROW CN 1/2x11/128"x118L , NP/BK
Wheelset
RIMS WTB ST i30 TCS 2.0 27.5"/650b, 32 hole, Disc, Black Anodized; PV drilled, Pinned Joint

SPOKE 14Gx64PCS STAINLESS XD-BLACK W/14MM BRASS SILVER NIPPLE
F/HUB JTECH JY-D951-15-110 Alloy Disc, 32H, Axle: 15x110mm, Anodized Black
F/HUB ThruAXLE SUNTOUR 15-110MM THRU-AXLE
R/HUB JTECH D162SB SRAM 12S EAGLE SX COMPATIBLE , ALLOY DISC ( 6 BOLTS ) ANO BLK. W/ 12MM THRU HOLE 14*32H.OLN:148MM. D:45.9
R/THRUAXLE JTECH w/ THROUGH QR, ANO BLACK, FOR 12x148, L:M12xP1.5x178mm
Tires

WTB Trail Boss 27.5x3.0 TCS, Dual DNA Compound, Lightweight Tubeless Casing, Aramid Bead

Brakes
SHIMANO HYDRAULIC MT200 DISC BRAKE W/SHIMANO ROTOR SM-RT26, 180MM, 6-BOLT
Brake Levers
SHIMANO HYDRAULIC MT201 for disc
Headset
VP-A71 BLACK W/M-1D ALLOY BLACK CAP
Handlebar
MTB (C:31.8mm), ALLOY 6061 RISE H/BAR ( 9° ) B/CENTER: 31.8mm.R/W:20/760mm SS.A.BK
Stem

Black Finish Aluminum threadless ( C:31.8mm ) ALLOY 6061 A-HEAD STEM. EXT:(6°) 60/70/80/90MM FOR 38 / 43 / 48 / 53CM

Tape/Grip
LockOn VP PP/TPR W/ Single Aluminum Clamp , D 22.2mm x OD 30mm x L 136mm , BLACK
Saddle
WTB SL8 COMP, PP Base, Satin Steel Rail, PU Leather Cover
Seat Post
Black Finish Aluminum Mountain HL SP-C207 400MM, ALLOY BLACK
(insert min 2 inches below lowest top tube weld / maintain clamp collar tightness)
Seat Post Clamp

Super Light Alloy with Quick Release

Sizes

As shown

Colors

see pull down menus

Our low price Saves You Hundreds! Compare to $2700 Trek, Jamis, Giant and Specialized 27.5PLUS Capable (MidFat) and 29er Mountain bikes
Bikes come up to 90 percent assembled. If you don't feel confident working on your bike, we suggest you take it to your local bike shop for final assembly & safety checks. How much Assembly? CLICK HERE to see sample assembly instructions and a video (scroll to bottom).
CLICK HERE for your special price on the full Video DVD/CD and Folding Mini Tool Kit

FSX BOOST Geometry Chart

(back to top of page: click here)