FREE SHIP 48 STATES ON ALL BICYCLES FREE SHIP*
FULL CARBON 29er Hardtails
Motobecane FANTOM 29 CF EAGLE 1X12, RockShox Forks
SRAM EAGLE 1X12, WTB Tubeless Compatible 29er CARBON Mountain Bikes
Click to see enlarged photo of bike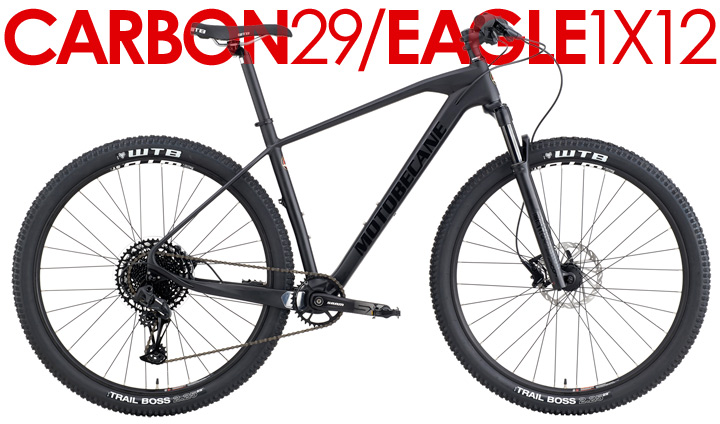 WTB Wheels Worth Appr. $406* Advanced Tubeless Compatible rims. Get Incredible ride quality + virtually flat free performance if you choose to convert to tubeless See FAQ page for Tubeless system setup
Click Links For>>Customer Reviews/Videos + Pro Reviews | Comparison Shopping Guide | Sizing Guide | Specs | Geometry
IMPORTANT: READ THIS PRIOR TO ORDERING. Order Now! Price May Go Up Suddenly

The Deal: available for PrepayShipJul30toAug14 Approx Dates, May ship earlier or later by a few days. See Pull down menus below. Warning: bikes always sell out fast so order now *Order now to lock in your sale price and selection. Price Rises As Sales Goals are Met.

The Process: When you order, your card will be billed for the full amount. You'll get an auto-email the next business day. Fri. Sat. Sunday orders get emails on Monday. Weekends/Holidays are not counted as "days".
Your Shipping Address: Please ensure it's correct when ordering. Last minute changes incur delays and/or extra costs. Shipping address can be changed on the 3rd page of checkout. Click on "change" beside the address. Tracking shows movement around the approx ship dates. When they ship, most take 5 to 7 days to arrive by Ground (Not including Weekends/holidays)
SALE FAQ: Q: How is this price so low, near comparable dealer wholesale? A: Motobecane has a very strong relationship with WTB and SRAM and can offer a promotional sale on a limited number of these bikes.
Q: It's thousands below other brands similar spec bikes, What corners are being cut? A: BikesDirect has cut expenses: 1) Minimal Advertising, 2) NO Sales Commissions, 3) No physical store overhead, 4) No inflated Corporate pay structures
2021 MODEL NOW AVAILABLE FOR PREORDER
DUE TO POPULARITY THE 2020 MODEL SOLD OUT
Get a 2021 Before They Pre-Sell Out or Price Increases

SRAM EAGLE SX 1X12
Front Suspension 29er CARBON Mountain Bikes
2021 Motobecane
FANTOM 29 CF Eagle
WEB SALE
MSRP $2599 SALE $1199.95
(Compare $2499 to $2799+)
Ships Signature Req'd for your protection

FULL Carbon 29er Mountain Bikes
Precision Handling XCTuned Geo
Advanced 1X12 Technology
FULL SRAM EAGLE DriveTrain
WTB Tubeless Compat. Rims
Rockshox + Lockout
Hydraulic Disc Brakes

Save up to 60% Off List Prices
Buy Factory Direct from Bikesdirect

Compare to $2499 Giant, Trek, Niner or Specialized 29er CARBON Mtn Bikes


Use menus below to select size/color
Go thru Checkout for stock status

Order Now, Limited Qtys. NOTE: Equipped with WTB Wheels Valued at $406+
PRO29XCARBON Design with Superior 437mm Chainstays for Top Level Climbing/ Handling


We accept Visa/MC/Disc/Amex. PayPal is optional

Price Includes Ground Shipping
to 48 United States
(5 to 7 Day Delivery) (AK/PR/HI addtl charges)
(Email us for Delivery to PO Box/APO/FPO)


Share this: | Twitter this: | More:

Pay with your US Issued Visa, MC, Disc, AMEX Cards. You do NOT need to use Paypal
Unheard Of Bang for Buck CARBON Hardtail!:
Unbelievable but true, this is a CARBON FIBER hard tail kitted out in near pro level parts. ROCKSHOX Rekon lockout forks+ WTB Wheels MSRP $406. SRAM EAGLE SX 1X12 + Cranks + SRAM LEVEL hydraulic Disc Brakes. Then add the advanced FULL CARBON frame and top rated WTB Rocket saddle!
It's almost inconceivable that Bikesdirect can offer all this for only $1199. (This price is not a typo)
These are going to sell out fast :) Almost as fast as you can ride one!

What do these NEW CARBON Fiber 29er mountain bikes compare to?
In general, other 29er mountain bikes selling around this price point will be LOWER TECH Aluminum. AND won't have the highly regarded SRAM Eagle+ RockShox Forks. IF they do, CARBON 29ers with similar spec cost around $2200+ and up.


We have sold thousands of Motobecane Bicycles. Bikesdirect.com is an authorized dealer and all the bikes we sell are covered by the factory warranties.

Customer Reviews
Robson "...Frame is strong....this (Motobecane) one just goes and I used to ride it very hard in Ringwood. I even raced on it in Jungle and Ringwood..."
BB Thompson (Comp 29er) ". Bike is relatively light, very good value for the price. …All good parts…tubeless tire rims and hyd disc brakes. Just a really good bike for the money."
Joe H. ( 29 X7) "…a completely trail capable bike and I meant to prove it as I took it to Fruita, CO for it's inaugural shakedown within days of it's build up. It handled everything with ease, proved to be flickable, with a great balance of climbing and descending ability."
Chip ( 29 X series) "Over all I am absolutely, positively, beyond all my expectations, blown away by this bike. If someone would have told me how much of a difference this bike would make...I would not have believed them. It's light and fast. It goes up any hill as easily as riding on flat ground. It stops without failure and I never miss a gear."
Motobecane has a proven track record of design and spec of top rated, race winning bikes. This Carbon 29er will perform.
Customer Video Reviews (Aluminum 29ers) This MY2021 Carbon Motobecane is a ride at a whole other level.
Carbon 29er Bikesdirect.com Customer Video:
"I frikkin LOVE this bike!...Really high end components for such a low price"
Incredibly Light! Rides really well...Love this Bike!"
| Motobecane ALU 29er Customer Video Reviews | Motobecane ALU 29er Customer Video Reviews |
| --- | --- |
| | |
Here is what just a few magazines say about Motobecane USA and their bicycles:

Mountain Bike Action: "Motobecane U.S.A. has a reputation for delivering a lot of bike for the bucks."

Road Magazine: "A lineup of bikes that is deep and varied, it is likely that Motobecane has a complete rig that will suit your fancy, whatever your discipline may be."
Bicycling Magazine: "Motobecane USA…is known for turning out exceptionally light production bikes with great components at reasonable prices."

RoadBike Action: "Motobecane assembled a great performance value that can uphold its racing heritage at a high level without breaking the bank. "
Mountain Biking Magazine: "We were astonished by the value and performance of Motobecane"
Bike Magazine: "The bike is an absolute feather. You can have the lightest bike on your block for about the same price as most people pay for their wheelset. How does Motobecane do it?"

Even when reviewed at list prices, magazines feel Motobecane bikes are incredible values.
When you consider the discount BIKESDIRECT offers on these super quality bikes; nothing else comes even close!

Buy one now at a discounted, factory direct price+ FREE shipping to 48 states,
Join the CARBON 29er Revolution
If you have ridden one you know why you want one. If you have ever wanted to try one, this is the best deal on a SRAM EAGLE equipped CARBON 29er bike with Hydraulic Disc Brakes and Rockshox Lockout front fork.
NEW SRAM EAGLE 1X12 Drivetrain
SRAM's next-generation Eagle drivetrain brings with it the legendary quality, durability and performance SRAM is known for, all packaged to meet the ever-evolving demands of today's riders. The Revolutionary SRAM 1X12 Drivetrain is lighter than older tech 2x or 3x drivetrains. EAGLE One By Drivetrains are Used by virtually all top pro mountain bike riders to dominate world level races.

COMPETITION READY
The NEW CARBON Fiber FANTOM 29 CF Eagle 1X12 is specified with competition-ready components and has geometry based on the FLY Team XC Race Bike of the Year. Please compare this bike directly against any other manufacturers $2,500+ 29er hardtail on the market. Those are around TWICE the price? Other bikes around $1199 are NOT CARBON or heavier or not as well equipped.

Extremely capable
with long travel RockShox + LOCKOUT. The CARBON Fiber FANTOM 29 CF Eagle 1X12 adds to those race winning specs; SRAM Eagle cranks and sealed bearing BB, Sealed bearing headset, sweet shifting SRAM Eagle derailleur with WTB Tubeless Compatible Rim Disc Wheelset (worth $400+) and truly amazing Hydraulic Disc Brake system.

Hydraulic Disc Brakes have been rated by magazine reviews as one of the best - Way better than any mechanical system and better than all but the most expensive hydraulic systems.

LIGHT WEIGHT
This bike is way better spec than most any other bike in its price range AND has much higher level parts. Nobody has a Carbon fiber 29er anywhere near this special sale price. Think you've found a better deal? We'd love to hear about it- email bd4salesteam@aol.com

SWEET HANDLING
Motobecane USA has really dialed in a race-proven geometry into this phenomenal ride. The handling is very responsive and yet stable. Singletrack and switchbacks are all handled with ease. Slow speed and high speed, technical and flat-out hammering, you will go faster because this bike is so darn light and capable.

How Can We Sell At This Price?
We sell Factory Direct so you pay a price close to what a local dealer would pay at wholesale cost for a comparably equipped bike. Thus, you get a better equipped bike for hundreds less - often saving up to 60% off List prices. The only thing you have to do is a bit of tuning and assembly.
What do these NEW CARBON Fiber 29er mountain bikes compare to?
In general, other 29er mountain bikes selling around this price point will be LOWER TECH Aluminum. AND won't have the highly regarded SRAM Eagle+ RockShox Forks. IF they do, they'll cost around hundreds or thousands more.
How much does that Trek hardtail weigh since it has lower level parts but costs hundreds to thousands more? Bikes with similar parts will weigh similarly. The price and equipment is the biggest difference. The Motobecane CARBON 29er Eagle has unquestionably Better Parts and Better Price of $1199. A $1200 Trek has an ALUMINUM frame, do you think it's lighter? Trek says it's appr. 29.6 lbs.
As you can imagine, these full carbon bikes are pre-selling out super fast. We forecast many of the best selections might be gone well before they are instock. This price is unheard of for an amazing riding Carbon Fiber frame on a bike with a lockout Rockshox and your choice of Eagle 1X12 or Deore 2X10.
WEIGHT: As it turns out, we have not gotten a bike to weigh. However- The factory says the weights of the Motobecane Fantom CF Advanced Carbon Fiber frame are approx 2.2 to 2.5 lbs. That's about 1 to 2 lbs lighter than any other Aluminum front suspension bike frame we've heard of.
COMPARE: ALUMINUM Trek Hardtails
ALUMINUM Treks at $1200 still weigh 29.6lbs. Can you spend nearly $1700 on a Trek? You'll still only get Aluminum and Trek says it weighs 29lbs. A light weight hardtail Trek or similar brands are approx 23 lbs. Those are around $4,000+ anywhere else. Want a super light hardtail for around $1499 to $2499? Bikesdirect.com has your answer- Click HERE
Carbon Trek Hardtails? AFAIK Trek's lowest cost carbon hardtail is 25.4 lbs and costs a staggering $2699. Got $2699 to spend? Just spend a tiny bit more for a Full Carbon 29er SL FULL Suspension bike which we've weighed as light as SUB 25 lbs! ($2999)
The NEW CARBON 29er Eagle is on sale now for only $1199 (not a typo) (Price Includes Shipping to 48 States)

These NEW CARBON 29ers are selling out fast. Get yours before they are all gone!
FANTOM CARBON 29er Sizing Guide
16" - 5'6" to 5'9"
17.5" - 5'9 to 6'0"
19.5" - 6'0' to 6'2"
21.5" - 6'2" to 6'4"
This is a general guide, please consult the geometry chart. Between sizes? For a more aggressive fit, go smaller. If you prefer a larger bike go larger. Sizing is a personal preference, the final choice is up to you

Frame

PRO29XCARBON with XCTUNED PowerStay Design, CARBONTecProfile tubes, replaceable rear derailleur hanger, water bottle mount. QR Rear. PRO29XCARBON Superior 437mm Chainstays for Top Level Climbing/ Handling, 41CM(16") 44CM (17.5") 49CM (19.5") 55CM (21.5") HEAD TUBE: CARBON 1-1/8"/1.5", B.B. SHELL: CARBON BSA 68MM (English Threaded) (Customers have told us most 29x2.35" tires fit)

Fork
ROCKSHOX RECON TK, CROWN ADJUST 29" QR COIL, DIF BLACK STEALTH, FAST BLACK / GLOSS BLACK, FAST BLACK UPPERS, 51 OFFSET, STEEL STEERER (1-1/8" w/adapter for tapered HT) CROWN:, STANCHION: 32mm straight wall steel, BLADE: Magnesium, 160mm post disc mount, TRAVEL:100mm, W/QR, TurnKey LOCKOUT DAMPING
Crankset
SRAM SX EAGLE POWERSPLINE 175mm 34T STEEL
Bottom Bracket
SRAM BB-Power Spline 118 /68
Pedals

Mountain Platform W/9/16" BORON AXLE

Front Derailleur
n/a
Rear Derailleur
SRAM RD SX EAGLE ( 12S ) , Max tooth 50T
Shifters
SRAM SL SX EAGLE TRIGGER, CLAMP INCLUDED, 12S
Cassette/Freewheel
SRAM SX EAGLE 11-50T
Chain
SRAM SX EAGLE 116LINK 12S GREY
WHEELSET

RIM TAPES: WTB TCS 2.0 11mm Rim Strip, 29" Red JN, Circular hole fits PV / SV
RIMS: WTB ST i23 TCS 2.0 29", 32 hole drilling, Disc, Black Anodized; PVdrilled, PinnedJoint
SPOKE: 14Gx64PCS STAINLESS XD-BLACK W/14MM BRASS SILVER NIPPLE
F/HUB: SHIMANO HUB, HB-M475-L QR(ALLOY/HOUSING ALLOY), 32H BLACK OL:100MM AXLE:108MM FOR DISC BRAKE (6 BOLT)
R/HUB: SHIMANO FREEHUB FH-M475L QR 32H 8/9/10-SPEED, OL:135MM AXLE:146MM QR:173MM (ALLOY/HOUSING ALLOY) FOR DISC BRAKE(6 BOLT), BLACK, SHIMANO LOGO, BULK

Tires
WTB Trail Boss 29" x 2.25 COMP ( 54/57 ), 27tpi Casing, Wire Bead (not Tubeless compat)
Brakes
DISC BRAKES, SRAM DB-Level-A1, MTB Hydraulic Aluminum - Forged, FOR POST DISC MOUNT/ SRAM DB ROTOR/BOLTS G2CS 180
Brake Levers

SRAM DB-Level-A1, MTB Hydraulic Aluminum

Headset
FSA NO.42E/ACB Sealed 1-1/8 ACB Top, 1.5" ACB Btm (for 46/56mm Head Tubes ) W/TOP CAP W/15 mm Cone Spacer / Standard 15mm top cover, (28.6x42/52.1x39.78mm) (H:16.3 mm), BLK., W/ CROWN RACE
Handlebar
MTB-AL ALLOY6061 RISE H/BAR (9°) B/CENTER: 31.8mm. R/W:20/740mm. SS.A BK
Stem
MTB-AL ( C:31.8mm ) ALLOY 6061 "TIOGA-OS" A-HEAD STEM.EXT:(10°) 80/90/100MM FOR 41 / 44 - 49 / 55CM, C/S:31.8x28.6x41mm. SS.BED
Grip
VP PP/TPR W/ Single Aluminum Clamp, D 22.2mm x OD 30mm x L 135mm, BLACK
Saddle
WTB Rocket 142x265 COMP, PP Base, Satin Steel Rail, PULeather Cover
Seat Post
MTB 6061 ALLOY SS.A.BK S/POST W/ALLOY ED BLK HEAD , 31.6 X 400MM
Seat Post Clamp

Super Light Alloy with Bolt

Sizes

see pull down

Colors

see pull down

Our low price Saves You Hundreds Compare to... Nothing compares

Bikes come up to 90 percent assembled.
We suggest you take it to your local bike shop for final assembly & safety checks.