FREE SHIP* TO THE 48 US


Custom Metal Flake Paint, Full Carbon Aero Road Bikes
2017 Motobecane Le Champion CF LTD
Shimano Ultegra 22 Speed
Click on bike to view a larger photo
| | |
| --- | --- |
| MetalFlakeRed+LightSilver | MetalFlakeGray+LightSilver (SOLD OUT) |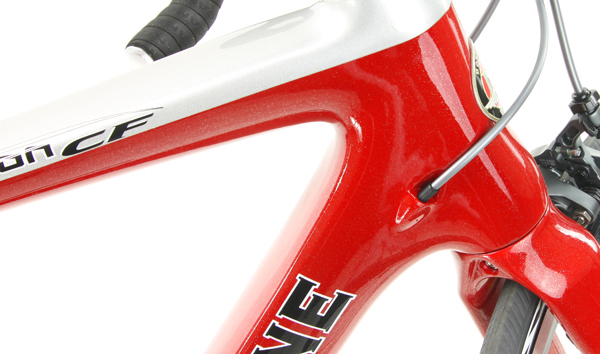 MetalFlakeRed+LightSilver Closeup
Click For: Reviews | Quick Sizing Guide | Specs | MetalFlakeRed Pics Gallery Note: Chains will be Silver and Graphics may update on Ksyrium Wheels | Geometry

IMPORTANT: READ THIS PRIOR TO ORDERING
FINAL CLEARANCE NOT RESTOCKING (For Current Models click Here)
Order now for your best deal. Prices may rise more than $100 when sales goals are met.

The Deal: bikes are available Now . Bikes will sell out fast, order now for best selection.

Order now to lock in the current sale price and selection. The price may be up to $100 more later this year.
The Process: When you order, your card will be billed for the full amount. You will then get an automatic email reply by the next business day. For example a Friday order will get an email on Monday. Weekends/Holidays are not counted as "days".

Your Shipping Address: Please ensure your shipping address is correct when you place your order.
Last minute address changes will incur delays and/or extra costs. Your shipping address can be changed on the 3rd page of the checkout process by clicking on "change" beside the address.

The email contains a tracking number which will NOT show movement until the ship date in the pull down menu
After the bike ships, it will take 5 to 7 days to arrive via Ground Shipping (Not including weekends/holidays)
Limited Edition Custom MetalFlake Paint

Shimano Ultegra STI 22 Speed

Full Carbon Aero Frame Road Bikes

2017 Motobecane
Le Champion CF LTD
CYBER HOT DEALS
SALE $1699.95

(List $3995)

Ships Signature Req'd for your protection



Advanced Aero Carbon Frames
Tapered Steerer Forks
Ultegra Crankset
Mavic Ksyrium Elite Wheels
Ritchey Comp Bar, Stem
Ritchey Carbon Post

Save up to 60% Off List Prices

Buy Factory Direct from Bikesdirect

Compare to $3,000 Trek or Specialized

Select FREE Ship48below
Go thru Checkout for stock status

FINAL CLEARANCE NOT RESTOCKING (For Current Models click Here)

Sizing Chart

We accept Visa/MC/Disc/Amex. PayPal is optional

Price Includes Ground Shipping
to 48 United States
(5 to 7 Day Delivery) (AK/PR/HI addtl charges)
(Email us for Delivery to PO Box/APO/FPO)


Share this: | Twitter this: | More:

Pay with your US Issued Visa, MC, Disc, AMEX Cards. You do NOT need to use Paypal
The new Le Champion CF bikes draw upon some of the same high-technology used in the top-of-the-line Immortal carbon fiber frames. We have sold thousands of Motobecane Immortals. This Immortal Carbon Fiber frame has the best quality and design in a carbon fiber frame we have seen. Customers who own Immortals send friends and family to buy these excellent road bikes all the time.
Here is what a few customers say:

RoadBikeReview
"A thousand miles in to my LeChampion CF… All stock including wheelset...except for replacing stem (fit) and handlebars (preference). It's one hell of a nice frame for the price…parts are outstanding. My impression of the frame is STIFF and SMOOTH…Two thumbs up"
RoadBikeReview
"...riding around my neighborhood has left me impressed. The bike is very stiff and accelerates incredibly well. This is not a great value bike. This is just a great bike!"
Here is what just a few magazines say:

Road Bike Action "Smooth Ride...Good Power Transfer...Lateral Stiffness...Will Perform Excellently..."
"...frame offered a smooth ride that kept our body fresh long after our legs had failed us. The high-mod monocoque carbon frame had good power transfer, getting the power from the cranks to the road with minimal energy loss. The frame had enough lateral stiffness during hard cornering or sprinting to please even the strongest testers…will perform excellently for the vast majority of riders." (Review of previous gen frame- Now current AP2X frames are even more aero-slick and powerful riding)
IMMORTAL FORCE – ROAD
"The Immortal is like a Rocket. Maneuverability is instant; feel on the pavement is smooth and quiet."

IMMORTAL – VELO NEWS
"Value leader Motobecane has an assortment of high-quality bicycles at jaw-dropping low prices. The 15.4 lb Immortal Team boasts full carbon construction and complete Dura-Ace. In business for decades, MotobecaneUSA has most recently focused on outstanding value."

IMMORTAL ICE – ROAD BIKE ACTION MAGAZINE
"the Immortal feels perfectly balanced below its rider and picks up speed without hesitation. Cornering the Immortal Ice is quite pleasurable. You can take your hands off of the Immortal Ice's handlebars and stretch while you are descending, which is a desirable trait for a true road bike. Stand on the pedals and the torsionally rigid carbon frame will deliver precisely metered power to the cranks, without a hint of your power being wasted on lateral movement."

IMMORTAL SPIRIT – BICYCLING MAGAZINE
"Your friends will drool over the Immortal Spirit until you drop them. The overall ride is truly amazing."

Even when reviewed at list price, magazines feel the Motobecane Immortals are incredible values.
When you consider the discount BIKESDIRECT offers on these super quality carbon fiber road bikes; nothing else comes even close!

Buy a Le Champion CF now at a discounted, factory direct price with shipping included to 48 states, NO TAX Collected 48 States.
FACTORY DIRECT PRICE

The NEW 2017 Le Champion CF LTD- You will be smiling in comfort as you drop other riders on hills and headwinds with the extra lower gears you have on your 22 Speed Shimano Ultegra full carbon road bike. The beautiful carbon fiber frame is made with great care and some of the highest level of technology from high modulus carbon fiber. Fully engineered for a resilient ride and even more comfort comes from the Kinesis Carbon Fiber fork and advanced Tapered Steerer for precision handling

NEW FRAME UPGRADES
AP2X = The fastest Motobecane Aero Road frame Ever

AERO This is the cutting edge generation of Motobecane Carbon Fiber frames. The downtube is a specially modified aero-section. Designed to cut smoothly through the wind at nearly every conceivable yaw angle.
Regardless of wind direction, the Kamm aero profile means you will ride with less total drag resistance compared to most other down tube frame shapes.
The Kamm aero profile is the optimum aero form for maximum speed and efficiency.

POWER The chainstays are oversized for maximum power transfer while the seatstays are aero-section and specially designed for a comfortable ride quality.

PRECISION Power-Tapered Carbon head tubes and Tapered Steerer Carbon Fiber forks for surgically precise handling with plush vibration dampening High Modulus 12K Carbon legs

At this price, Nobody else offers:
+ TRUE 22SPD Shimano Ultegra component package+ Ultegra Brakes
+ Full Carbon Aero Frame + Tapered Steerer Carbon Fork
+ Shimano Ultegra 6800 11 Speed (2x11) Drivetrain and Ultegra Crankset
+ AND Ritchey Comp Bar/Stem
+ Ritchey Carbon Post
+ AND Mavic Ksyrium Elite 11 Speed Wheelset
Note: Chains will be Silver and Graphics may update on Ksyrium Wheels
+ FREE Clipless Road Pedals
Compare this bike to any other, you will see that other bikes of this caliber List for around $3000 or more

Don't be fooled into wasting your hard earned cash on a lower quality, heavier and lower tech bike. Remember... no sales tax* (48 States)+ UPS GROUND SHIPPING is included in the price to 48 STATES.

*LowStock: Please be aware that we only have a limited stock of Shimano Ultegra 22 Speed Full Carbon 2017 Motobecane Le Champion CF LTDs available at the special factory direct price and apologize in advance if we sell out of your size.

Sizing Guide
47cm - 5' to 5'3" (effective top tube 510mm)
50cm - 5'3 to 5'5" (effective top tube 521mm)
52cm - 5'5" to 5'7" (effective top tube 534mm)
54cm - 5'7" to 5'9" (effective top tube 543mm)
56cm - 5'10" to 6'0" (effective top tube 565mm)
58cm - 6'0" to 6'2" (effective top tube 573mm)
60cm - 6'3" to 6'4" (effective top tube 586mm)
62cm - 6'4" to 6'6" (effective top tube 598mm)

This is a general guide, please consult the geometry chart. Sizing is a personal preference, the final choice is up to you
Motobecane USA says: Unlike traditional straight top tube bicycles of the past, these semi compact frames are not labeled by the length of the seat tube. Similar to other sloping top tube semi and compact road frames - they are given a size designation that is not related to the length of the seat tube.
To confirm sizing, measure the length of the Effective top tube. A 56cm CF PRO will have an effective top tube around 565 - 566mm depending on how accurate/steady one's hands are. Effective top tube length is what sizing is based mainly upon as that is a fixed length that dictates how much room a rider has when seated on a bicycle. Standover heights are non-relevant when riding and only matter when a rider is stopped and dismounting.


Frame

AP2X Total Frame Design, Kamm-Profile Aero Section Downtube, New Semi-Compact Geometry, High Modulus Carbon Fiber Frame with replaceable derailleur hanger and 2xH2O brazeons
CARBON Tapered Headtube UPPER 1-1/8"/LOWER 1.5" (46x42/56x52.1mm) 125/130/140/150/170/190/210/230mm

Fork

Aero Carbon Pro High Modulus 700C CARBON ( 12K WEAVE ) FORK, STEM: ALLOY ( 1-1/8" TO 1.5" TAPER ) 215/220/230/240/260/280/300/320mm, CROWN: 56mm, ALLOY CROWN AND DROPOUT, BONDED CARBON BLADE, OFFSET:45mm

Headset

FSA NO.42/ACB Sealed 1-1/8 ACB Top, 1.5" ACB Btm (for 46/56mm Head Tubes ) W/TOP CAP W/15 mm Cone Spacer Sealed Bearing Threadless (1-1/8" TAPER 1.5")

Derailleurs

SHIMANO FRONT, FD-6800 ULTEGRA FOR FRONT DOUBLE & REAR 11-SPEED BAND TYPE(34.9MM) / SHIMANO REAR, RD-6800, ULTEGRA GS 11-SPEED COMPATIBLE WITH LOW GEAR 28-32T FOR DOUBLE

Shifters

Shimano Ultegra 6800 11 Speed STI (22 Speed total)

Brakes

SHIMANO CALIPER BRAKE, BR-6800, ULTEGRA FRONT / REAR

Wheelset

KSYRIUM ELITE S 25 WTS M11 WHEELSET
MAVIC MAXTAL 700C BLACK ANOD. W/UB CONTROL F/R:18/20H, TRADITIONAL ALUMINUM QUICK RELEASE,BEARING ADJUSTMENT TOOL(REAR WHEEL) SPOKE WRENCH,INSTRUCTION AND WARRANTY CARD, RIM TAPE AND SPOKE PROTECTOR

SPOKE (SK) FR/C MAVIC F/R:18/20PCS ( RADIAL / 2 CROSS ), S.S. BLACK SPOKE W/ALLOY NIPPLES, COMPATIBLE WITH SHIMANO 11-SPD
Note: Chains will be Silver and Graphics may update on Ksyrium Wheels

Crank

SHIMANO ULTEGRA DOUBLE HOLLOWTECH 2, FOR REAR 11- SPEED, FC-6800, 50X34T W/BB(BSA), Crank 165/170/172.5/175mm for 47/50-52/54-56/58-62CM

Bottom Bracket

SHIMANO SM-BBR60 BC1.37x24 Road

Cassette

SHIMANO CASSETTE, CS-6800, ULTEGRA, 11-S, 11-12-13-14-16-18-20-22-25-28-32T

Chain

Shimano CN-6800, ULTEGRA, FOR 11-SPEED, 108 LINKS

Saddle

RITCHEY SADDLE STREEM V3 Synthetic Leather

Seatpost

RITCHEY SP CF 2B, 3K CARBON S/POST W/ALLOY BB BLACK HEAD, 31.6 X 350MM

Handlebars/Stem

RITCHEY BIOMAX COMP ROAD BAR (C:31.8) ALLOY( 6061 ) W/TUNNEL BUILT IN TYPE B/CENTER:31.8mm 380/400/420/440mm FOR 47/50-52/54-56/58-62CM,D/R:130/75mm , BB BLK /RITCHEY STEM COMP 4-AXIS 84/6D(C:31.8)-28.6 ALLOY(6061) TIOGA-OS ,STEM.EXT:(-6°)90/100/110mm FOR 47/50-52/54-56/58-62CM,C/S:31.8/28.6x42mm ,BB BLK

Pedals

WELLGO RC-713 ALLOY POWDER COAT BLK ROAD PEDAL W/9/16" CNC CRMO AXLE W/98A included FOR EARLY ORDERS

Tires

MAVIC Yksion Pro White GripLink 25 ( front and rear)
PV TUBES(TB) 48mm

Color

(as shown)

Sizes

see pull down menu Geometry Sizing Chart

This bike comes up to 90 percent assembled.
We suggest you take it to your local bike shop for final assembly & safety checks.