LTD QTYS of these Titanium 29er Mountain bikes


2013 Motobecane Fantom 29 Titanium
29er Mountain Trail Bikes
with LockOut Reba RL 100mm,
SRAM X9 30 Speed
+ Avid Elixir Hydraulic Disc Brakes
Click to see enlarged photo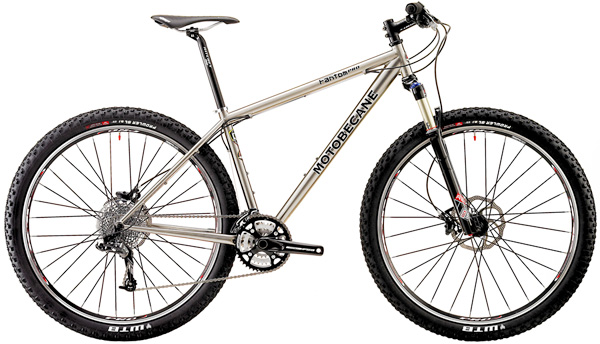 Specs | Geometry Sizing Chart | Click Here for Image Gallery
NOTE: May differ slightly from pictured some parts may update to 2013 versions
Share this: | Twitter this: | More:
IMPORTANT: READ THIS PRIOR TO ORDERING

Before Ordering, Please Check Sizing HERE | Most riders choose a size they can clear the standover by at least 2.5 inches
If you see "sold out" anytime in the checkout process, you were too late. Sorry, No Rain-checks

The Deal: This bicycle is available in limited qtys Warning: Sizes will sell out very quickly

Buy now for the best price and selection. The price may go up later without notice.

The Process: When you order, your card will be billed for the full amount. You will then get an automatic email reply by the next business day and a tracking number with an ETA that won't be correct.
For example a Friday order will get an email on Monday. Weekends/Holidays are not counted as "days".
The tracking number which will NOT show movement until around two to three days after the email.

Want more deals? - After you place your order, get email alerts HERE

The email contains a tracking number which will NOT show movement until 2 to 3 days after actual shipment
Sorry, No Rain-checks
SRAM X9 3x10 Speed
29er Titanium Mountain Bikes

2013 Motobecane
Fantom 29er Titanium
SRAM X9 30 Speed
FINAL CLEARANCE SALE
ONLY $1,599.95* (List $3999)
Signature Required for your protection

Advanced 3AL/2.5V Titanium Frame
FSA CRANKS, SRAM X9
100mm Rockshox Reba Thru-Axle
Avid Elixir Brakes, Vuelta Pro Wheels

Save up to 60% Off List Prices
Buy Factory Direct from Bikesdirect

15.5" fits up to 5'8, 17.5" fits up to 5'10"
19" fits up to 6'1", 21" fits 6'3 and taller*
Estimated ranges, size you choose is up to you

Compare to $5,000+ Trek, Gary Fisher


Use menus below to select size/color
Go to Checkout to show stock status
Click Here for the Geometry Sizing Chart

NOTE: May differ slightly from pictured some parts may update to 2013 versions

Click Here for the Geometry Sizing Chart

We accept Visa/MC/Disc/Amex. PayPal is optional

Price Includes Ground Shipping
to 48 United States
(5 to 7 Day Delivery) (AK/PR/HI addtl charges)
(Email us for Delivery to PO Box/APO/FPO)


Share this: | Twitter this: | More:

Pay with US Issued Visa, MC, Disc, AMEX Cards. Paypal Is Optional
We have sold thousands of Motobecane FLY hardtail mountain bikes. The same frame tubing is used on all FLY hardtails. The higher level FLY Team Titanium, Titanium 29er and Fantom PRO Titanium models have the advanced geometrically enhanced 3/2.5 Titanium butted frames. Customers who own FLY bikes send friends and family to buy these incredibly capable mountain bikes all the time.
Here is what just a few magazines say:

MOUNTAIN BIKE ACTION
FLY Team 29 Ti XX Edition..."a sight to behold...Motobecane delivers a race-readybike with the Fly Team 29 Ti XX. ...offers more comfort than almost all aluminum hardtail race bikes and many carbon fiber race bikes. The SRAM (10speed) drivetrain is inspiring. And Motobecane put the package together for a great price."
See full review Click HERE
DECLINE MAGAZINE
"The FLY Team(29) swoops around big sweeping, high speed turns like a train on rails and motors across minute trail debris with the same powerful locomotion...The FLY Team(29) seems to go faster and faster...a deal that is hard to pass up, offering a high qualty frame with a rad parts spec."

MOUNTAIN BIKING MAGAZINE
"The FLY 9357 from Motobecane USA is the lightest production hardtail available for under three thousand bucks. The 2.7 pound frame is precision welded from high strength Kinesium aluminum that is 40% stronger than 6061 or 7005 series aluminum."

BIKE MAGAZINE
"This bike is an absolute feather. You can have the lightest bike on the block for about the same price as most people pay for their wheels. The lightweight flyer screams up hills with no hint of bottom bracket flex. How does Motobecane do it?"

MOUNTAIN BIKE ACTION
"IS 19.9 POUNDS TOO LIGHT? How is it possible for Motobecane to sell an under-20-pound (mountain) bike for such an incredible price? One thing is certain; you'll always win in the price department with this incredible deal. The FLY Team makes you feel like a superstar from the git-go. The 19.9 pound FLY Team simply motors."

MOUNTAIN BIKING MAGAZINE
"FLY TEAM - XC RACE BIKE OF THE YEAR! The more we do the math, the harder it was to believe the price at which the Motobecane package leaves the shop. Performance of the frame and parts spec is on the highest level."
MOUNTAIN BIKE ACTION
"The tight controls and frame angles are so lively it's easy for the rider to find his zone. The FLY rider will have an overwhelming desire to sprint past the front row and take the lead. In or out of the saddle, the 20 pounder retains complete steering precision on ultra steep grades without a hint of bar wagging or oversteering"
MOUNTAIN BIKING MAGAZINE
"The lightest bike that we've tested in the last 2 or 3 years. The FLY 9357 takes you higher, farther and faster than your lactate threshold ever imagined - at a price that isn't too outrageous."
MOUNTAIN BIKING MAGAZINE
"Motobecane has been producing top-notch bikes specific to your needs for decades, and they continue to produce all levels of bikes while remaining focused on the customer. This bike is so light and rigid it seems to pedal itself."
MOUNTAIN BIKE ACTION
"Motobecane's FLY Team Titanium is made from double-butted, multi-shaped 3/2.5 titanium. The finished product is stunning. The frame does a nice job of absorbing the trail chatter, so the rider is not physically punished for the bike's performance."
MOUNTAIN BIKING MAGAZINE
"FAST! That's what all our test riders had to say. This bike climbed like a jet airplane. The FLY is the ideal choice if you're looking an ultra-lightweight hardtail that doubles as a competitive cross country racing machine."

Even when reviewed at list price, magazines feel the Motobecane FLY mountain bikes are incredible values.
When you consider the discount BIKESDIRECT offers on these incredible quality mountain bikes; nothing else comes even close!

Buy one now at a discounted, factory direct price with shipping included to 48 states.

The FLY Team was voted Best XC Race Bike of the Year - Mountain Biking Magazine selected the Motobecane FLY Team over Trek, Specialized and many other brands as the best XC Race Bike of the Year in 2003.
Now for 2013, Motobecane USA has introduced the Ultimate hardtail Trail bike made of the Ultimate material - Titanium in what many consider to be the ultimate wheel size - 29er. Compared to Carbon Fiber, Titanium has far superior abrasion and cracking resistance. All riders we asked agreed that the best material for a "real trail" mountain bike has got to be Titanium.

No corners are cut, the 2013 Fantom 29er Ti NOW with SRAM X9 shifters/derailleurs, 100mm Rockshox Reba RL fork +Avid Elixir Disc Brakes - specified with top-of-the-line quality SRAM, Avid, Ritchey and Vuelta XRP components.
High Performance All Trail Geometry
Same great handling as the FLY Team XC Race Bike of the Year, tuned for All Trail style.
New Fantom 29er Titanium frame clearance for tires up to 2.35 inches for maximum trail traction. (comes with 2.1)

Super Steering Precision
Thru-Axle 15mm Rockshox MaxleLite Fork and Thru-axle front hub wheelset
Durable Trail-Proven, Race Spec Parts
This Titanium 29er is equipped with the top-shelf, ten-speed, aluminum FSA crank. Includes a super fast rolling, Sealed External BB System. Check out the FSA cartridge headset, sweet shifting 2013 SRAM X9 3x10 speed drivetrain with even lighter, precision bearing Vuelta XRP PRO 29er Disc hubs and the hot new Avid Elixir Hydraulic Disc braking system. This bike has trail dominating parts, without any doubt.
Some Interesting SRAM Drivetrain facts
Lance Armstrong wins the Leadville 100 Mile offroad race with SRAM 10 speed
Nine out of the top ten riders in the opening round of the 2010 World Cup, won with XX drivetrain and brakes
The Sea Otter Classic, SRAM 10 speed took top spot in both men's elite cross country and short track, with Burry Stander and Todd Wells of Specialized Factor Racing taking the win.
Julien Absalon wins Madrid World Cup on SRAM 10spd components.
Click HERE to read more at the SRAM 10spd website

At less than 25.5 pounds*, this bike will be nothing but a blur as you smoke your competitors. Motobecane USA has dialed in a race-proven geometry into this phenomenal ride. The handling for this Fantom series was made a bit more stable for a wider range of riding yet is still very responsive and stable. Singletrack and switchbacks are all handled with ease. Slow speed and high speed, technical and flat-out hammering, you will go faster because this bike is so darn light.

This bike is truly versatile. Put slicks on this baby and give those roadies a good scare as this is as light as many road bikes out there. Or some meatier tires on it and you have got a superlight trail bike that can handle just about anything and anywhere. These special deals always sold out very quickly and this next batch will too.

What does this bike compare to? Compare to the $4400 Gary Fisher Super Fly (www.fisherbikes.com) or $6000+ Moots or Seven cycles.

Frame: The Gary Fisher Super Fly has carbon fiber frame. The Fantom 29er Ti has a super strong and light, Geometrically enhanced, multi-shape, butted 3AL/2.5V titanium 29er specific frame which is much more abrasion resistant. Titanium tubes stand up to "real-trail" conditions.
Weight: The Gary Fisher Super Fly weighs 24lbs. (per www.fisherbikes.com, 1-800-229-0198) The Fantom 29er Ti weighs around 25.5 lbs (*size 15.5" no pedals/reflectors per mfg)

Drive Train/Fork: The Fisher has a low level X9 front derailleur and the Fisher bike has a much heavier fork with almost a whole inch shorter travel.
The Fantom 29er Ti has the
Newest 100mm Rockshox Reba Fork+ Advanced Lockout and 15mm MaxleLite Thru-axle.
The fork alone lists for approx $700

Brakes: Both have Avid hydraulic disc brakes.

Wheels: The Fantom Titanium 29er has Vuelta XRP wheels which are carefully handbuilt and go through three separate stages of re-tensioning.

Price: Gary Fisher Super Fly hardtail List is $4400.
The 2013 Fantom 29er Ti List is $3999 for the complete bike,
Order Now for only $1,599.95

Your special Factory Direct Price, complete bike built with SRAM X9 3x10 Derailleurs, Shifters and Avid Elixir Brakes

Why buy a lower spec bike, with a heavier/shorter travel fork for more than twice the price of the Fantom 29er Titanium SRAM X9 Edition?

(Price includes Ground ship 48 States )

Here is a great video taken by one of our customers who rode their Motobecane FLY Team 29 Titanium mountain bike in the 2011 Leadville 100 MTB Trail race. It's the Powerline descent.
Frame
Titanium 3AL/2.5V Butted and Geometric Multishaped tubes, H2O Bosses (15" size has 1xH2O Bosses), S-Bend seatstays (Room for 2.35" tires)
Your Titanium Motobecane is Covered for a FULL Year against defects PLUS Bonus 100 YEAR MotoArmor Warranty on Titanium Frames that remain unaltered from delivered condition. See www.motobecane.com/warranty for entire warranty terms.
Fork
ROCKSHOX REBA RL 29", TRAVEL:100mm, BOSSLESS ,W/QR,W/External rebound, low speed compression to 'Lock' with internal Floodgate. 1.125" threadless aluminum steerer tube 15MM THRU AXLE MaxleLite

Crankset
FSA Comet MegaExo, SRAM 10SPD ,44x32x22T, 73mm BB width, standard English thread
Bottom Bracket
FSA BB-7000 / 73mm MEGAEXO BB
Pedals
n/a
Front Derailleur
SRAM X9 clamp on
Rear Derailleur
SRAM X9
Shifters
SRAM X9 3x10 Speed (30 gears total)
Cassette/Freewheel
SRAM PG-1050 CASSETTE 10SP 11-36, 10 Speed
Chain
KMC X10SL, Silver, 10 Speed
Hubs
Black Anodized Vuelta XRP, Precison Bearing with QR rear, 15mm Thru-Axle front
Spokes
Stainless steel black finish
Rims
Vuleta XRP PRO, doublewall with eyelets
Tires

Prowler SL RACE 2.1 29x2.1" ( 52/52 ) DNA Compound, 60tpi Casing, Aramid Bead, presta valve tubes (Plenty of room for 2.35" tires)

Brakes
AVID ELIXIR 5 GLOSS BLACK 180mm HS1 ROTOR , Black / Tungsten Lever / Black Caliper 6 bolt IS mount rear/ post mount front
Brake Levers
AVID ELIXIR 5 hydraulic
Headset
FSA Orbit XL II cartridge bearing for threadless
Handlebar
Ritchey MTN RIZER COMP ( C:31.8mm ), ALLOY 6061 RISE H/BAR(6°) B/CENTER: 31.8mm.R/W:20/620mm
Stem
Ritchey COMP 4-AXIS 84/6D-28.6 ( B/CENTER: 31.8mm ) ALLOY "TIOGA-OS" A-HEAD  STEM.EXT:(6°)100/110/120/130mm
Tape/Grip
Ritchey WCS Hex foam
Saddle
Ritchey COMP V2 Streem saddle, CrMo-rails, Black
Seat Post
Ritchey COMP Aluminum 27.2x400mm
Seat Post Clamp
Super Light Polished Aluminum
Sizes
15.5" fits up to 5'8, 17.5" fits up to 5'10", 19" fits up to 6'1", 21" fits 6'3 and taller* These are estimated ranges - the size you choose is up to you
Colors
Brushed Titanium (as shown) Click Here for Image Gallery

SALE $1,599 Compare to other Titanium or Carbon SRAM X9 equipped Mountain Bikes at $5,000 to $5,000


PRICE INCLUDES GROUND TO 48 US
SENT SIGNATURE REQUIRED FOR YOUR PROTECTION

Bikes come up to 90 percent assembled.
We suggest you take it to your local bike shop for final assembly & safety checks.

IMPORTANT: READ THIS PRIOR TO ORDERING


Before Ordering, Please Check Sizing HERE | Most riders choose a size they can clear the standover by at least 2.5 inches
If you see "sold out" anytime in the checkout process, you were too late. Sorry, No Rain-checks

The Process: When you order, your card will be billed for the full amount. You will then get an automatic email reply by the next business day.
For example a Friday order will get an email on Monday. Weekends/Holidays are not counted as "days".
The emailed tracking number will NOT show movement until after the Next business day (Won't move on a weekend day).

If your size/color is sold out, join our newsletter for updates HERE

The email contains a tracking number which will NOT show movement until 1 to 2 days after the bikes ship
When they ship, Transit time is 5 to 7 days via Ground Shipping (Not including weekends/holidays)