ALL BIKES FREE SHIP 48
Powerful Disc Brakes, Motobecane Jubilee FS 24Spd
Full Suspension Comfort Bikes+ FR Advanced Sus. Fork
Click to see enlarged photo of bike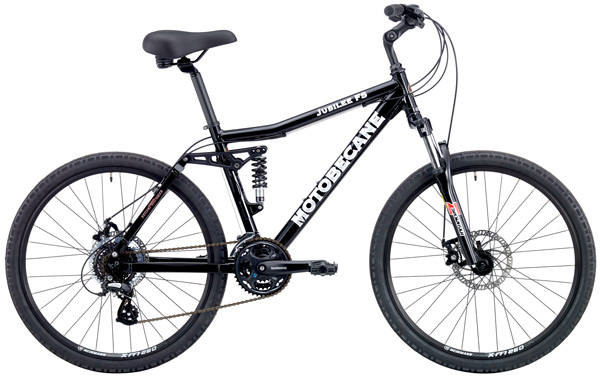 Get Incredible Comfort + Control with Top-Rated, Advanced 4Bar Link Suspension Technology
Click For>> Reviews | Sizing Guide| Specs | Geometry Chart
Well equipped with Powerful Disc Brakes, Top Rated Fantom 4BarLink Frames = Precision Handling, Comfort and Control

IMPORTANT: READ THIS PRIOR TO ORDERING

Order now for your best deal. Prices may rise more than $100 when sales goals are met.

The Deal: bikes are available Now. For selection, SEE PULL DOWN MENUS, for stock status; proceed through check out. Bikes will sell out fast, order now for best selection.

The Process: When you order, your card will be billed for the full amount. You will then get an automatic email reply by the next business day. For example a Friday order will get an email on Monday. Weekends/Holidays are not counted as "days".
Your Shipping Address: Please ensure it's correct when you order. Last minute changes incur delays and/or extra costs. Your shipping address can be changed on the 3rd page of the checkout. Click on "change" beside the address. Tracking shows movement in 1-2 business days. Most take 5 to 7 days to arrive by Ground (Not including weekends/holidays)
Shimano 24Sp Full Suspension Comfort Bikes with Disc Brakes

2019 Motobecane
Jubilee FS
SALE $699.95
(List $1499)
Ships Signature Req'd for your protection

FULL Shimano Drivetrain
TopRated 4BAR FullSuspension
Comfy Gel Suspension Saddles
Powerful Disc Brakes
Comfy Advanced Sus. Forks
DoubleWall Weinmann Rims

Save up to 60% Off List Prices
Buy Factory Direct from Bikesdirect

Compare to $1400 Giant, Trek or Specialized Comfort FS Bikes


Use menus below to select size/color
Go thru Checkout for stock status



Order Now, Limited Qtys.


We accept Visa/MC/Disc/Amex. PayPal is optional

Price Includes Ground Shipping
to 48 United States
(5 to 7 Day Delivery) (AK/PR/HI addtl charges)
(Email us for Delivery to PO Box/APO/FPO)


Share this: | Twitter this: | More:

Pay with your US Issued Visa, MC, Disc, AMEX Cards. You do NOT need to use Paypal
We have sold thousands of Motobecane Full Suspension mountain bikes. A high level of engineering and attention to detail is seen on all Motobecane mountain bikes. Happy customers send friends and family to buy these incredibly capable mountain bikes all the time.

This is the much anticipated Full Suspension Comfort Bike by Motobecane USA. Building upon over a decade of FS design, this Comfort Full Suspension bike is equipped with up to 4 inches of bump taming travel.
REVIEWS of Motobecane 4Bar Link Full Supension Bikes

Switchback Magazine
…surprising performance..power transfer…plush ride…proved nimble…comfortably laying down the power…lets you point and shoot the bike…for the weekend warrior or trail rider looking for an all day machine the Fantom 29 DS will NOT disappoint…
Bicycling Magazine says the Fantom Team carves the trails and has "components normally found on bikes costing thousands more..."
Switchback Magazine
"…wondering if we were getting enough performance out of some of the other bikes to justify spending over twice as much..."

Dirt Rag Magazine editor rides the Fantom Team in several 24 HOUR Races and raves:
"In addition to The Wilderness 101, I completed the Wild 100 (kilometers) and a 96 mile Duo Class 24-hour race on the Fantom Team. The biggest compliment I can give the bike is to say that I didn't have to think much about it during those events. ...The Fantom Team's handling is well mannered and intuitive. Carving through tight singletrack is a breeze...the bike loves to go downhill fast. During the aforementioned 24-hour race, there is a long, fast downhill where I routinely blew by hardtail racers like they were standing still. When my quarry wasn't eager to yield the A line, I went for the gusto and passed on the B line, relying on the Fantom Team's suspension to gobble up the rocks and ruts..." CLICK HERE FOR WHOLE REVIEW

Even when reviewed at list price, magazines and experienced riders feel the Motobecane mountain bikes are incredible values.
When you consider the discount BIKESDIRECT offers on these incredible quality mountain bikes; nothing else comes even close!

Buy one now at a discounted, factory direct price with shipping included to 48 states.
Join the Full Suspension Revolution = Maximum Comfort and Control
If you have ridden one you know why you want one. If you have ever wanted to try one, this is the best deal on a well equipped full suspension comfort bike with Powerful Disc Brakes and front Advanced Sus. Forks. Enjoy a cadillac plush ride and laugh at virtually any road conditions with your Jubilee FS Full suspension Comfort bike.
The Jubilee FS Full Suspension Comfort Bikes Upgrades from the others with:
Advanced Suspension + Advanced Sus. Forks, Powerful Disc Brakes, smooth shifting Shimano drivetrain

These Motobecane Full Suspension bikes are an incredible deal when you consider:
1) Top Rated 4Bar Link Technology = Max Comfort/Control
2) Advanced FS Bikes we've seen in bike shops cost start around $1100+
3) Equipped with FULL Shimano Drivetrain Including Cranks for Top Shifting Performance
4) Super Comfortable Gel Saddle with Elastomer Suspension
5) Custom Angle Adjustable Stems

NEW Four Bar Full Suspension
Motobecane's Full Suspension aluminum frame is so well-designed and engineered that some customers have said it will make most folks forget about Lindsay Lohan or any of Americas top models, past, present or future. Others have suggested it would be a survivor of anything Jeff Probst could ever think up. We say it's kind of like Angelina Jolie in Tomb Raider, beautiful and tough.
Proven Drivetrain
Shimano's drivetrain brings with it the legendary quality, durability and performance Shimano is known for, all packaged to meet the ever-evolving demands of today's riders.

SWEET HANDLING
Motobecane USA has really dialed in a race-proven geometry into this phenomenal ride and developed a refined ride suitable for any rider. The handling is very responsive and yet stable. Curbs, traffic bumps, potholes are all handled with ease. Slow speed and high speed, technical and flat-out hammering, you will go faster because this bike is so darn capable and comfortable.

How Can We Sell At This Price?
We sell Factory Direct so you pay a price close to what a local dealer would pay at wholesale cost for a comparably equipped bike. Thus, you get a better equipped bike for hundreds less - often saving up to 60% off List prices. The only thing you have to do is a bit of tuning and assembly.
The 2019 Jubilee FS is on sale now for only $699 (Price Includes Shipping to 48 States)
Amazing deal when you consider the frames alone are worth around $499+ and full suspension bikes with Advanced FRONT Advanced Sus. Fork start at $1100 in bike shops we've seen...

These bikes are selling fast. Get yours before they are all gone!
Jubilee FS Sizing Guide
15in/38cm fits most 5'0" to 5'4"
16in/42cm fits most 5'3" to 5'7"
17in/44cm fits most 5'7" to 5'10"
19in/48cm fits most 5'10" to 6'1"
21in/53cm fits most 6'1" to 6'4"
This is a general guide. Between sizes? Size down for lower handlebars, more straddle clearance, short arms/legs/torso. If you size up, you may touch when straddling. Size up for taller handlebars, long arms/legs/torso.
For specific sizing assistance, please email bd4salesteam@aol.com
Sizing is a personal preference, the final choice is up to you

Frame

Hydroformed Butted and Geometric Multishaped Aluminum tubes,1 set H2O Bosses (Small has no bosses), Four Bar Rocker Arm. Gusseted SL Aluminum (Disc Brake Equipped) Super Smooth Sealed Cartridge Bearings at critical pivots, replaceable rear derailleur hanger (Customers are reporting there is Room for 2.3" tires)

Fork / Rear
Fork: SUNTOUR SF14 26"- TRAVEL 75mm COIL W/PRELOAD ADJUSTER (1-1/8") BLADE: ALLOY, 9mm QR, POST disc mount
Rear: KS-260 SPRING REAR SHOCK, EYE TO EYE:165mm W/preload adjust
Crankset
SHIMANO FRONT, FC-M311-L FOR REAR 8-SPEED, 170/175mm FOR 38-42CM/44-53cm, 42X32X22T
Bottom Bracket
FSA Sealed Cartridge BB-7420ST-122.5 122.5
Pedals
BLACK W/9/16" BORON AXLE
Front Derailleur
SHIMANO FRONT, FD-M310 TOP-SWING DUAL-PULL FOR REAR 7/8-SPEED, BAND TYPE (W/31.8MM ADAPTER)
Rear Derailleur
SHIMANO REAR DERAILLEUR, RD-M310-L, ALTUS 7/8-SPEED BLACK
Shifters
SHIMANO SHIFT/BRAKE LEVER, ST-EF510 for 24 Speed
Cassette/Freewheel
SHIMANO CASSETTE SPROCKET, CS-HG31, 8-SPEED, 11-13-15-17-20-23-26-34T
Chain
KMC Z51 NARROW CN 1/2x3/32"x110L
Hubs
F/HUB JOYTECH ALLOY DISC BLK ANOD. FRONT HUB, W-F ALLOY BK, 14Gx32H,OL:100mm
R/HUB JOYTECH x8/9SPD REAR BLK ANOD. CASSETTE DISCBRAKE, W-R ALLOY BK , 14Gx32H,OL:135MM
Spokes
14Gx64PCS STAINLESS W/14mm BRASS NIPPLE
Rims
WEINMANN XM260 DISC 26"x1.75" ALLOY BLACK ANOD. DISC ONLY 32H
Tires
KENDA K847 26x1.95" , ALL BLACK
Brakes
TEKTRO MDM280, MECHANICAL DISCBRAKE 180mm Rotors
Brake Levers
SHIMANO DISC
Headset
NECO 1-1/8" THREAD HEAD SET W/SEALS BALL BEARINGS, 25.4x34x30
Handlebar
KALLOY ALLOY 6061 Aluminum R/W:40 / 620MM , BLK
Stem
KALLOY ADJUSTABLE ANGLE: 0~60° ALLOY Melted forged, Steerer.: 25.4mm, EXT:90mm FOR ALL SIZE . Quill: 180L, Bar: ( 25.4mm )
Tape/Grip
WTB Dual DNA Compounds, Classic Logo Pattern, full length
Saddle
VELO ComfortMax saddle, w/gel, Double Density Base, elastomer suspension
Seat Post
6061 ALLOY SS.A.BK S/POST W/ALLOY ED BLK HEAD, 31.6 X 400MM
Seat Post Clamp
Superlight Aluminum w/ALLEN BOLT
Sizes

See pull down menu

Colors

See pull down menu

Our low price Saves You Hundreds Compare to... Nothing compares.

Bikes come up to 90 percent assembled. Assembly is Easy. An 11 year old customer assembled their own bike. Check out his video: CLICK HERE.How much Assembly? CLICK HERE for sample assembly instructions and videos CLICK HERE for a special price on the full Video DVD/CD and Folding Mini ToolKit
If you don't feel confident working on your bike, we suggest you take it to a local bike shop for final assembly & safety checks.