ALL BIKES FREE SHIP 48
HYDRAULIC DISCBRAKES! 2021 Motobecane FantomDS ELITE
Full Suspension 27.5/29er Mountain Bikes+ FR/RR Lockout
AIR REAR SHOCK! HOT WTB TCS Tubeless Compatible Rims
See links below for enlarged photo of bike

Click For>> Customer Videos and Reviews | Comparison Guide | Sizing Guide | Specs | Geometry
Well equipped with FR/RR LOCKOUT + NEW Tapered HT Frames = Precision Handling
NOTE: Well Equipped with WTB TCS Rim Wheels Valued at $499+
IMPORTANT: READ THIS PRIOR TO ORDERING

The Deal: available for PrepayShipsSep8to28th / 2020 Approx Dates, May ship earlier or later by a few days. See Pull down menus below. Warning: bikes always sell out fast so order now *Order now to lock in your sale price and selection. Price Rises As Sales Goals are Met.

The Process: When you order, your card will be billed for the full amount. You'll get an auto-email the next business day. Fri. Sat. Sunday orders get emails on Monday. Weekends/Holidays are not counted as "days".
Your Shipping Address: Please ensure it's correct when ordering. Last minute changes incur delays and/or extra costs. Shipping address can be changed on the 3rd page of checkout. Click on "change" beside the address. Tracking shows movement around the approx ship dates. When they ship, most take 5 to 7 days to arrive by Ground (Not including Weekends/holidays)
2021 Model Has Fantastic Upgrades:
ADVANCED AIR REAR SHOCK W/LOCKOUT (Usually $200 upcharge)
SHIMANO HYDRAULIC DISC BRAKES (Usually $200 upcharge)
SHIMANO HUBS (Usually $80 upcharge)

Shimano 24Sp Full Suspension Mountain Bikes
2021 Motobecane
FantomDS ELITE
MSRP $1899 SALE $799.95
Ships Signature Req'd for your protection

NOW UPGRADED AIR REAR SHOCK!
SHIMANO HYDRAULIC DISCBRAKES
Precise Handling Tapered HT
FR/RR AIR Lockout
Tubeless Compat. TCS Rims
Advanced Kinesis Suspension

Save up to 60% Off List Prices
Buy Factory Direct from Bikesdirect

Compare to $1800 Gary Fisher, Giant, Trek, Niner or Specialized 29er Mountain Bikes


Use pull-down below to select size/color

PullDown May Show Sold Out Selections. For Availability, Go thru Checkout. Cart Does Not Reserve Items





Order Now, Limited Qtys. NOTE: Equipped with WTB TCS Wheels Valued at $499+
FEATURES PRO-X Proportionate Wheels Sizes for Optimized Ride Performance:
14.5/16.5in= 27.5Whls, 17/18.5/21in=29erWhls
Best handling w/optimized wheelsize. As noted in the pulldown menu.


We accept Visa/MC/Disc/Amex. PayPal is optional

Price Includes Ground Shipping
to 48 United States
(5 to 7 Day Delivery) (AK/PR/HI addtl charges)
(Email us for Delivery to PO Box/APO/FPO)


Share this: | Twitter this: | More:

Pay with your US Issued Visa, MC, Disc, AMEX Cards. You do NOT need to use Paypal
We have sold thousands of Motobecane Bicycles. Bikesdirect.com is an authorized dealer and all the bikes we sell are covered by the factory warranties.

Here is what just a few magazines and customers say about Motobecane USA and their bicycles:

Mountain Bike Action: "Motobecane U.S.A. has a reputation for delivering a lot of bike for the bucks."

Road Magazine: "A lineup of bikes that is deep and varied, it is likely that Motobecane has a complete rig that will suit your fancy, whatever your discipline may be."
Bicycling Magazine: "Motobecane USA…is known for turning out exceptionally light production bikes with great components at reasonable prices."

RoadBike Action: "Motobecane assembled a great performance value that can uphold its racing heritage at a high level without breaking the bank. "
Mountain Biking Magazine: "We were astonished by the value and performance of Motobecane"
Bike Magazine: "The bike is an absolute feather. You can have the lightest bike on your block for about the same price as most people pay for their wheelset. How does Motobecane do it?"

Even when reviewed at list prices, magazines feel Motobecane bikes are incredible values.
When you consider the discount BIKESDIRECT offers on these super quality bikes; nothing else comes even close!

Buy one now at a discounted, factory direct price+ FREE shipping to 48 states,
Motobecane Fantom DS 29er Customer Review

What Happens after 500 Miles on a Motobecane 29er
may surprise you
What do Customers Compare this Motobecane Fantom DS Bike to?
Giant Stance mountain bike line $1500 and UP + Local taxes Uses "FlexPoint" Suspension. Per Giant's info this is a simple single pivot design. It relies on flexing of the rear stays to provide suspension instead of bearing pivots. From an engineering standpoint, this will increase fatigue loading of the rear stays much more. Fact: Higher fatigue loading = shorter material life.

Compared to Giant's flexing stay design, the Motobecane Fantom full suspension bikes have sealed bearing pivots which means tremendously lower fatigue loads on the rear stays.
Fact: Lower fatigue loads = longer material life.

The Giant Stance 27.5 base model is $1500+tax. It's a Single Pivot 27 speed Alivio bike and house brand/generic parts. Giant has NO Shimano cranks, NO rear lockout, NO TCS Tubeless compatible wheels. TCS Tubeless compatible wheels are worth about $500 if you were to upgrade to these later.

NOTE: All Pro riders use tubeless compatible wheels for very good reasons When converted to tubeless, tires are virtually flatproof and offer incredible grip and ride quality.

Compare - the Fantom DS Bikes from $699 and up to $1399 - also single pivot suspension. Full sealed bearing pivots. Much higher level Shimano or SRAM at hundreds less, some with Rockshox Front and Rear Lockout, WTB TCS tubeless compatible wheels, Shimano or SRAM Cranks

Why spend $1500 or more and get a lower spec bike with flexing rear stays and lower tech rims?

Get a Fantom DS now and save over $500 and get higher specs and WTB tubeless compatible wheels that alone are worth $500+

Join the Big Wheel Revolution
If you have ridden one you know why you want one. If you have ever wanted to try one, this is the best deal on a well equipped 27.5 / 29er full suspension bike with powerful Disc Brakes and front and rear lockouts.
These Motobecane FantomDS bikes are an incredible deal when you consider:
1) FRONT and REAR Lockout FS Bikes we've seen in bike shops cost start around $1200
2) Equipped with WTB TCS Tubeless compatible rim wheelsets worth over $499
3) Equipped with Shimano Cranks for Top Shifting Performance
4) Kinesis Engineered Hydroformed AL Suspension + Tapered HeadTubes+Dropper Seatpost guides
5) Built in Top Ranked Taiwan factory (vs other brands built in China)
6) PRO-X Sizing for Optimized Ride Performance: smaller sizes are 27.5, larger are 29er
7) 4x4Suspension= 4inch Travel Front and Rear
NEW WTB TCS Tubeless Rims
Get Tubeless tech rims now. Tubeless wheelsets of this caliber are normally around $500 to 800+ So this is an incredible deal: You are getting a complete full suspension bike with a pro-quality TCS Rim wheelset. Get amazing technology, now!
WTB Says: "Our TCS™ (Tubeless Compatible System) technology is the solution for riders seeking high performance, lightweight and durable mountain bike wheel systems that are easy to install, fun to ride and simple to service..."(Simply add your own TCS Tires and Sealant/setup kit and...
...Say goodbye to air compressors, tire levers and pinch flats. Say hello to your full riding potential. "

Learn more about the incredible WTB TCS tech's features and benefits: >Click Here<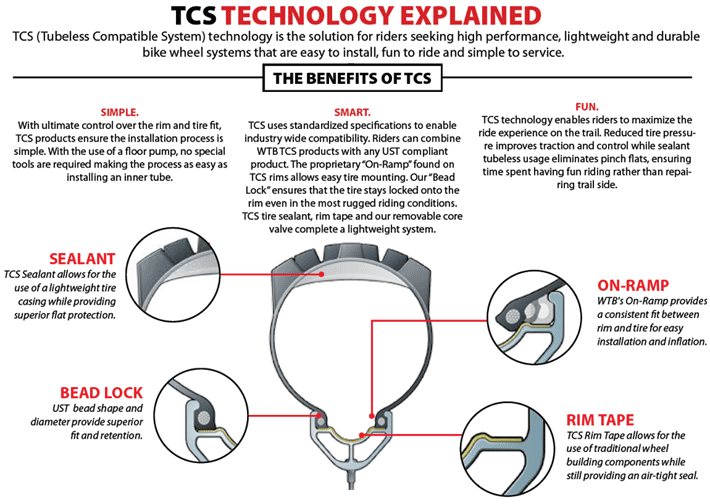 Features Advanced WTB TCS Tubeless Compatible Wheels worth $500. Features incredible ride quality + virtually flat free performance (To convert, Simply See FAQ page for Tubeless system setup)
NEW Hydroformed frame+ Tapered Headtubes
Motobecane's new hydroformed aluminum frame is so well-designed and engineered by Kinesis that some customers have said it will make most folks forget about Lindsay Lohan or any of Americas top models, past, present or future. Others have suggested it would be a survivor of anything Jeff Probst could ever think up. We say it's kind of like Angelina Jolie in Tomb Raider, beautiful and tough.
Proven Drivetrain
Shimano's drivetrain brings with it the legendary quality, durability and performance Shimano is known for, all packaged to meet the ever-evolving demands of today's riders.

SWEET HANDLING
Motobecane USA has really dialed in a race-proven geometry into this phenomenal ride. The handling is very responsive and yet stable. Descents, Singletrack and switchbacks are all handled with ease. Slow speed and high speed, technical and flat-out hammering, you will go faster because this bike is so darn capable.

How Can We Sell At This Price?
We sell Factory Direct so you pay a price close to what a local dealer would pay at wholesale cost for a comparably equipped bike. Thus, you get a better equipped bike for hundreds less - often saving up to 60% off List prices. The only thing you have to do is a bit of tuning and assembly.
The 2021 FantomDS ELITE is on sale now for only $799 (Price Includes Shipping to 48 States)
Amazing deal when you consider the WTB TCS Rim wheels alone are worth around $499+ and full suspension bikes with FRONT AND REAR lockout start at $1200 in bike shops we've seen...

These bikes are selling fast. Get yours before they are all gone!
Fantom DS Sizing Guide
Features PRO-X Sizing with Optimized wheel sizes.
Smaller sizes get the 27.5 rims, Larger get 29er rims. This means you get the best possible handling bike.
14.5" - 5'2" to 5'5" (27.5 wheel)
16.5" - 5'6" to 5'8" (27.5 wheel)
17" - 5'8" to 5'11" (29er wheel)
18.5" - 6'0" to 6'2" (29er wheel)
21" - 6'3 to 6'5" (29er wheel)
This is a general guide. Between sizes? Size down for lower handlebars, more straddle clearance, short arms/legs/torso. If you size up, you may touch when straddling. Size up for taller handlebars, long arms/legs/torso.
For specific sizing assistance, please email bd4salesteam@aol.com
Sizing is a personal preference, the final choice is up to you

Frame

PRO-X Designed Sizing. NEW Tapered Headtubes. Kinesis Engineered Aluminum with SinglePivot TrailTuned PowerStay Design, MultiProfile Hydroformed Tubes, replaceable rear derailleur hanger, dropper seatpost routing

Fork
Fork: SUNTOUR SF20-XCM-HLO-DS Steerer: (1-1/8") CROWN:ALLOY, STANCHION: 30mm, BLADE: ALLOY, 9mm QR, POST disc mount, TRAVEL:120mm W/HYDRAULIC LOCKOUT
Rear: KS 582RL, AIR, EYE TO EYE:190mmX50mm W/Preload / dualcontrol rebound/ lockout
Crankset
SHIMANO FC-TX801, TOURNEY TX, FOR REAR 7/8-SPEED, 175MM, 42X32X22T
Bottom Bracket
FSA BB-7420ST-122.5
Pedals
BLACK W/9/16" BORON AXLE
Front Derailleur
SHIMANO FD-M310 TOP-SWING DUAL-PULL FOR REAR 7/8-SPEED, BAND TYPE
Rear Derailleur
SHIMANO RD-M310-L, ALTUS 7/8-SPEED
Shifters
SHIMANO SL-M315 RAPIDFIRE PLUS W/ OPTICAL GEAR DISPLAY (3X8=24Gears)
Cassette/Freewheel
SHIMANO CASSETTE, CS-HG31, 8-SPEED, 11-13-15-17-20-23-26-34T
Chain
KMC Z8.1 NARROW CN 1/2x3/32"x114L
Hubs
F/HUB SHIMANO HB-M475-L QR(ALLOY/HOUSING ALLOY), 32H BLACK OLD:100MM AXLE:108MM FOR DISC BRAKE (6 BOLT)
R/HUB SHIMANO FH-M475L, QR 32H 8/9/10-SPEED, OL:135MM AXLE:146MM QR:173MM, FOR DISC BRAKE (6 BOLT)
Spokes
14Gx64PCS STAINLESS W/14mm BRASS NIPPLE
Rims
Tubeless Compatible, WTB ST i25 TCS 2.0, 32 hole drilling, Disc Only, Black Anodized; PV drilled, Pinned Joint ((To convert, Simply See FAQ page for Tubeless system setup, additional parts required))
Tires
WTB Nano COMP 27tpi Casing, Wire Bead
Brakes
SHIMANO MT200 Hydraulic Disc Brakes, SM-MA-F180P/P2, RESIN PAD/ SHIMANO ROTOR FOR DISC BRAKE, SM-RT26, 6-BOLT TYPE
Brake Levers
SHIMANO MT200 Hydraulic Disc Brakes
Headset
ORBIT 1.5 ZS, Internal alloy cups, ACB 1-1/8" Upper, 1-1/8" crown race
Handlebar
ALLOY 6061 RISE H/BAR ( 9° ) B/CENTER: 31.8mm.R/W:20/760mm. SS.A BK
Stem
ALLOY 6061 "TIOGA-OS" A-HEAD STEM.EXT:(10°)90MM C/S:31.8x28.6x41mm. SS.A.BK
Grip
VP ClampOn W/ Single Aluminum Clamp, D 22.2mm x OD 30mm x L 135mm , BLACK
Saddle
WTB Speed V Sport SE, Classic Cut Pattern: High Padding, Black
Seat Post
6061 ALLOY SS.A.BK S/POST W/ALLOY ED BLK HEAD, 27.2 X 400MM
Seat Post Clamp
Superlight Aluminum (31.9x30.5) W/CR-MO ALLEN BOLT
Sizes

See pull down menu

Colors

See pull down menu

Our low price Saves You Hundreds Compare to... Nothing compares.

Bikes come up to 90 percent assembled.
We suggest you take it to your local bike shop for final assembly & safety checks.