LTD QTYS of these Carbon Fiber 29er Mountain bikes


NEW Windsor Carbon COMP 29er SRAM XO
29er Bikes with Rockshox REBA RL29 100mm
+ Avid Elixir Hydraulic Disc Brakes
Click to see enlarged photo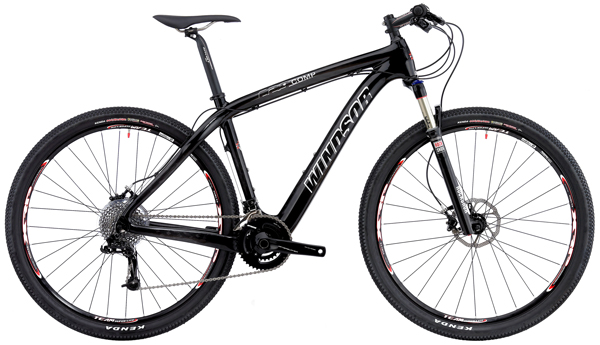 Share this: | Twitter this: | More:
IMPORTANT: READ THIS PRIOR TO ORDERING

The Deal: This bicycle is available NOW. Most sizes will sell out prior to arrival date
Add to Cart and Check Out now for the best price and selection. Bikes may sell out anytime.

The Process: When you order, your card will be billed for the full amount. You will then get an automatic email reply by the next business day. For example a Friday order will get an email on Monday. Weekends/Holidays are not counted as "days".
The tracking number will NOT show movement until around two to three days after actual shipping date
The email contains a tracking number which will NOT show movement until 2 to 3 days after actual shipment
Sorry, No Rain-checks

SRAM XO 2x10 Speed
Carbon 29er Mountain Bikes

NEW Windsor
Carbon COMP 29er XO
FINAL CLOSEOUT
SALE $1899.95* (List $4999)
Signature Required for your protection

Advanced 12K Carbon Fiber Frame
FSA AfterBurner CRANKS
REBA RL29 100mm Fork
Avid Elixir Brakes, Ritchey COMP
Vuelta COMP SL 29er Wheels

Save up to 60% Off List Prices
Buy Factory Direct from Bikesdirect

17" fits most 5'8" to 5'11"
19" fits most 6' to 6'2", 21" fits most 6'2 to 6'4"*
Estimated ranges, size you choose is up to you

Compare to $6,000+ Trek, Specialized or Giant Carbon 29er mountain bikes


Use menus below to select size/color
Go to Checkout to show stock status


We accept Visa/MC/Disc/Amex. PayPal is optional

FREE SHIPPING* 48 US




Price includes UPS Ground 48 States (5 to 7 Day Delivery) (AK,PR, HI additional cost)

(Email us for Shipments to PO Box/APO/FPO)

Share this: | Twitter this: | More:

Pay with your US Issued Visa, MC, Disc, AMEX Cards. You do NOT need to use Paypal
What experts at Mountain Bike Magazines are saying about the NEW Windsor C29
"While the C29 features steeper geometry designed for cross-country racing, the bikes long wheel-base and chainstays temper this. The bike strikes a balance between quick handling and stability."

"Our C29 Pro test bike is cream of the crop, spec'd with components usually found on bikes nearly twice the price."

"Windsor doesn't give you a single excuse for not being the first one up the climb. The bike feels as if it could accelerate out from underneath you when you put the power down."

"The C29 comes spe'ed with a parts package comparable to any brand's top-of-the-line options."

"If a no-frills, ultra-light and incredibly efficient race bike is what you're after, it's hard to beat the value of the C29's racecourse prowess and top-shelf parts spec."

Buy one now at a discounted, factory direct price with shipping included to 48 states, NO TAX Collected 48 States.
Windsor TEN Year Frame Protection Program
Ride. Hard. Make Dust Fly. Crush your competition. Don't Worry About your frame. For a Decade.
Windsor takes the risk out of owning a carbon fiber mountain bike.

For ANY reason, regardless of fault or defect; if any issue comes up with your carbon frame you are covered PLUS FREE Shipping*. The Windsor Carbon 29er frame is $2499 MSRP, but you won't have to fork out that much dough.
The 1st replacement frame is only $99 | The 2nd is only $199 | 3rd Frame and beyond, only $399 (Up to 10 years)
*Free shipping to Lower 48 USA, Proof of purchase and trade-in of damaged frame required. Only C29 frames.

New for NEW:
This is the top of the range of hardtail 29er for Windsor. The latest Carbon fiber EXHP frame means high efficiency pedaling, precision handling so you can slice and dice singletrack at will. Strong and Supple carbon comfort engineered to decrease your trail tremors and leave you fresher after miles of riding.

Made from HMCarbon with EXHP monocoque and 12K Carbon Twill outerlayer.
MHCarbon = High Modulus Carbon that is light, stiff and strong
EXHP = Extreme High Pressure manufacturing process that results in extremely strong and lightweight carbon structures. 12K Carbon Twill outerlayer provides an extra protective layer.

Rockshox REBA RL29 QR, 32mm Stanchions, Sweet suspension for best handling on the trail

Check out the FSA cartridge headset, sweet shifting SRAM XO 2 x 10 speed drivetrain with even lighter, precision bearing Vuelta XRP COMP 29er edition SL Disc hubs and the hot new Avid Hydraulic Disc braking system. This bike has world dominating parts, without any doubt.

At less than 23.3 pounds*, this bike will be nothing but a blur as you smoke your competitors.

This bike is truly versatile. Put slicks on this baby and give those roadies a good scare as this is as light as many road bikes out there. Or some meatier tires on it and you have got a superlight trail bike that can handle just about anything and anywhere. Our special deals always sell out very quickly and this batch will too.

What does this bike compare to?
Compare to the $5000 to $6000 Specialized Stumpjumper 29er or Giant XTC Advanced SL 29er Carbon Hardtails

Warranty: Defects are incredibly unlikely.
What's more likely? Setting your carbon frame down on some rocks or gravel, or a rock hurled up by the trail.

Specialized says: "WARNING! Great care should be taken not to damage composite (carbon) materials, including the frame... Any damage may result in a loss of structural integrity, which may result in a catastrophic failure. This damage may not be visible in inspection. Before each ride, and after any crash, carefully inspect the bicycle for dents, fraying, gouging, scratches through the paint, chipping, bending or any other signs of damage. Do not ride if the bicycle shows any of these signs. (from bottom of their warranty info page)
What this means: Set your bike down hard= Don't ride. Scratched paint = Don't ride. Chipped paint = Don't ride.
Cost of replacement Specialized Carbon frame = approx $3,000

Windsor Frame Protection Program means:
Your Windsor Carbon 29er frame is covered for 10 years from date of purchase for any reason*
Cost of replacement Windsor Carbon frame = $99 for first frame*

NEW Windsor Carbon 29er COMP (List $4999) SALE PRICE ONLY $2,499 + FREE SHIP 48
Special Factory Direct Price, complete bike built with SRAM XO Derailleurs, Shifters and Avid Brakes

Why spend more than twice the price of this Windsor Carbon 29er COMP SRAM XO Edition?

(Price includes UPS Ground ship 48 States NO TAX Collected 48 States)

Frame
Windsor HMCarbon, EXHP monocoque, 12K Carbon Twill outerlayer
HEAD TUBE: CARBON ( 50mm ) IS2 HP, L:17/19/21CM= 110/117/129mm
B.B. Shell CARBON 68mm

Fork

ROCKSHOX REBA-RL 29QR L:43/48/53CM=190/197/209mm STANCHION:32mm, Low friction anodized with sag gradients, BLADE: Magnesium, post mount disc brake, TRAVEL:100mm, BOSSLESS, W/QR, W/External rebound, Low speed compression to 'Lock'


Crankset

FSA SRAM 10SPD Afterburner Compact 386 Updated X10, 42x27T, ALLOY BLACK, HOLLOW Crank 175mm w/BB-7000-68  (CN LINE: 48.0mm)

Bottom Bracket

FSA BB-7000-68 (CN LINE: 48.0mm) english thread 68mm width

Pedals

n/a

Front Derailleur

SRAM FD XO HIGH CLAMP 2x10 34.9mm DUAL PULL

Rear Derailleur

SRAM X0 TYPE 2 LONG CAGE 10SPD BLK

Shifters

SRAM SL TRIGGER XO (MMX clamps)

Cassette/Freewheel

SRAM PG 1070 12-36T for 10 Speed

Chain

KMC X10SL SUPER LIGHT NARROW CN 1/2"x11/128"x112L.W/HOLLOW PIN

Hubs

Black Anodized Vuelta XRP Team 29er SL Edition, Precison Bearing with QR, Front hub for 15mm Thru-Axle

Spokes

Double Butted Stainless steel black finish with alloy nipples

Rims

Vuleta XRP Team 29er SuperLite Disc, doublewall aluminum/eyelets

Tires

Kenda Small Block 8, 29x2.1" 120TPI Kevlar, presta valve tubes

Brakes

AVID Elixir 9 HYDRAULIC DISC BRAKE, 160mm HS1 ROTOR , Black Anodized 6 bolt IS mount rear/ post mount front

Brake Levers

AVID Elixir 9 HYDRAULIC DISC BRAKE

Headset

FSA IS-2,  Orbit IS INTEGRATED OS 1-1/8 H/SET, 1-1/8 ACB Top,ANGULAR CONTACT BEARING ( FOR 45MM OD HEAD TUBE ), W/ Standard 15mm top cover

Handlebar

RITCHEY MTN COMP FLAT, ALLOY( 2014 ) FLAT H/BAR(5°) BB BLK W/COLOR LOGO B/CENTER:31.8mm.R/W:0/660mm

Stem

RITCHEY STEM COMP 4-AXIS ( BAR CENTER : 31.8mm ) (6°) 100/110/120mm FOR 17/19/21", BB BLK W/BB SILVER FRONT CAP W/COLOR LOGO

Tape/Grip

Ritchey WCS Hex foam

Saddle

VELO Competition MTB, SUPERLITE FOAM W/ CR/N TI ALLOY RAIL

Seat Post

RITCHEY COMP 2B ALLOY( 2014 ) Aluminum 31.6x350mm

Seat Post Clamp

Super Light Polished Aluminum

Sizes

17" fits most 5'9" to 5'11", 19" fits most 6' to 6'2", 21" fits 6'3 and taller* These are estimated ranges - the size you choose is up to you

Colors

Black Carbon Fiber (as shown)

SALE $2,499
Compare to other Carbon Fiber or Carbon SRAM XO equipped Mountain Bikes at $8,000 to $9,000


PRICE INCLUDES UPS GROUND TO 48 US, NO TAX Collected 48 States
SENT SIGNATURE REQUIRED FOR YOUR COMPTECTION

This bike comes 90% assembled.
We suggest you take it to your local bike shop for final assembly & safety checks.

IMPORTANT: READ THIS PRIOR TO ORDERING


The Deal: This bicycle is available NOW. Most sizes will sell out prior to arrival date
Add to Cart and Check Out now for the best price and selection. Bikes may sell out anytime.

The Process: When you order, your card will be billed for the full amount. You will then get an automatic email reply by the next business day. For example a Friday order will get an email on Monday. Weekends/Holidays are not counted as "days".
The tracking number will NOT show movement until around two to three days after actual shipping date
The email contains a tracking number which will NOT show movement until 2 to 3 days after actual shipment
Sorry, No Rain-checks