DEMO DAY SALE! BEST DEALS EVER, Up To 63% Off*
TOP RATED MID DRIVE ELECTRIC

NOTE FROM CEO: Why are these such incredible deals? Local shops say they are way below cost?
These are specially discounted since they were gently test ridden by business customers during a demonstration day event. Bikesdirect.com sells thousands of bikes to rental companies, hotels, tour groups etc.
As New condition with signs of mild use. All were professionaly assembled, Inspected and reboxed for shipment. Full factory warranties apply
Tracking will show movement a few extra days beyond usual 2-3 days for inspection/rebox
Discounts don't apply to previous purchases as these bikes are special demo day bikes.
Make sure to ADD TO CART, and check out asap due to extremely limited selections that will sell out fast.
Cart Does NOT reserve stock, Check Out Before Items Sell Out.
Shop NOW: Limited Inventory, CART DOES NOT RESERVE STOCK, Check Out ASAP

DEMO DAY SALE GOING ON NOW
Extremely Limited Inventory: ADD TO CART And Check Out ASAP
---
Elite EF3 Mid Drive Motor Folding eBikes
Aluminum Electric City/Hybrids
Compare $3699 | WAS $1599 | SALE $1199
Shop Now Click HERE (Ltd Qtys,CheckOutASAP)

INTEGRATED Rack, FREE Kickstand, SUPER Comfy Seat, Super COMPACT, Genuine Shimano 1X9 Spd, *SUPER Comfy WIDE Tires* CrMo Forks, Powerful Hydraulic Disc Brakes, Shop Now

Up To 100+ Mile Range! Elite eAdventure
Alu Electric Flat Bar Gravel/Commute
Compare $3599 | WAS $1999 | SALE $1499
Shop Now Click HERE (Ltd Qtys,CheckOutASAP)

Advanced MID DRIVE Motor, ~47lbs Super Light! SUPER Comfy Upright Position, Smooth Shifting SHIMANO, *SUPER Comfy WIDE Tires* Comfy ROCKSHOX Suspension Fork, Click Below to Shop
---
HAL eBoost Elite Full Suspension 27PLUS
Shimano MidDrive Electric Mountain Bikes
Compare $7299 | WAS $2699 | SALE $2199
Shop Now Click HERE (Ltd Qtys,CheckOutASAP)

FREE ~$120 Value StealthType Dropper Post! SHIMANO 1X12 SPD Shifting! Top Rated ROCKSHOX AIR + LOCKOUT Suspension Fr/Rr, Hydraulic Disc Brakes, WTB Tubeless Compat Wheels, Shop Now

HAL e29 29ER Full Suspension
Shimano MidDrive Electric Mountain Bikes
Compare $7299 | WAS $2499 | SALE $2099
Shop Now Click HERE (Ltd Qtys,CheckOutASAP)

FREE ~$120 Value StealthType Dropper Post! SHIMANO 1X12 SPD Shifting! Top Rated ROCKSHOX AIR + LOCKOUT Suspension Fr/Rr, Hydraulic Disc Brakes, WTB Tubeless Compat Wheels, Shop Now
---
Elite eUrban
Aluminum Electric City/Hybrids
Compare $3499 | WAS $1799 | SALE $1299
Shop Now Click HERE (Ltd Qtys,CheckOutASAP)

FREE Rack, FREE Kickstand, SUPER Comfy Seat, Angle Adjust Stems, Genuine Shimano 1X9 Spd, *SUPER Comfy WIDE Tires* AIR Suspension Fork, Powerful Hydraulic Disc Brakes, Shop Now

28MPH! eMulekick Express
Aluminum Electric Flat Bar Gravel/Commute
Compare $5995 | WAS $2499 | SALE $1999
Shop Now Click HERE (Ltd Qtys,CheckOutASAP)

Advanced MID DRIVE Motor, ~35lbs Super Light! SUPER Comfy Upright Position, TOP RATED SRAM 1X11 Spd, *SUPER Comfy WIDE Tires* Comfy CARBON Fork, Click Below For More Details
---
28MPH! eMulekick PRO
Aluminum Electric Drop Bar Gravel
Compare $6995 | WAS $2499 | SALE $1999
Shop Now Click HERE (Ltd Qtys,CheckOutASAP)

Advanced MID DRIVE Motor, ~34lbs Super Light! POWERFUL Hydraulic Disc Brakes, TOP RATED SRAM 1X11 Spd, *SUPER Comfy WIDE Tires* Pro CARBON Fork, Shop Now Click Below

28MPH! eMulekick SL w/DT SWISS Wheels
Aluminum Electric Drop Bar Gravel
Compare $7995 | WAS $2999 | SALE $2499
Shop Now Click HERE (Ltd Qtys,CheckOutASAP)

Advanced MID DRIVE Motor, ~33lbs Super Light! SUPER Comfy Upright Position, TOP RATED SHIMANO GRX800 1X11 Spd, *GRAVEL KING Tires* Pro CARBON Fork, Shop Now
Extremely Limited Inventory: ADD TO CART And Check Out ASAP
---
We're Experiencing High Sales Volume. Checkout issues? Please Order By Phone. Call 904-249-2453
(If we're unable to answer, please leave your complete contact info, email/phone, make/model/size/color / price of the bike/s you are trying to order. We'll return your call by the next business day by phone or email)

---
Buy with Confidence. Bikesdirect.com is Top Rated by the BBB and BizRate.
Plus over 32,000 Real FaceBook Fans/Followers/Customers Follow BikesDirect.com On FaceBook
We Use a Shopping Cart System with the most current secure server available on the market
We guarantee that you will never suffer a loss due to you using your credit card to purchase a bicycle from bikesdirect.com

If your shipping address is different from your billing, our security department may elect to contact you as part of our anti-fraud screening process. Your bike may not ship until we obtain additional information to verify the card holder requested the change. The GoDaddy, BizRate and VeriSign Seal shows the world that they have verified our identity and that Bikesdirect is the rightful owner and operator of this Web site
BikesDirect.com is Customer Certified by BizRate
Thousands and thousands of happy customers love Bikesdirect.com on BizRate.

Go Through The Link in the BizRate Certified banner to the right. See reviews from real customers
BikesDirect.com Has Over 32,000 FaceBook Fans/Customers/Followers
Thousands and thousands of happy customers love Bikesdirect.com on FaceBook

Go Through The Link on the right. See Exclusive FaceBook Deals and some of our real customers
---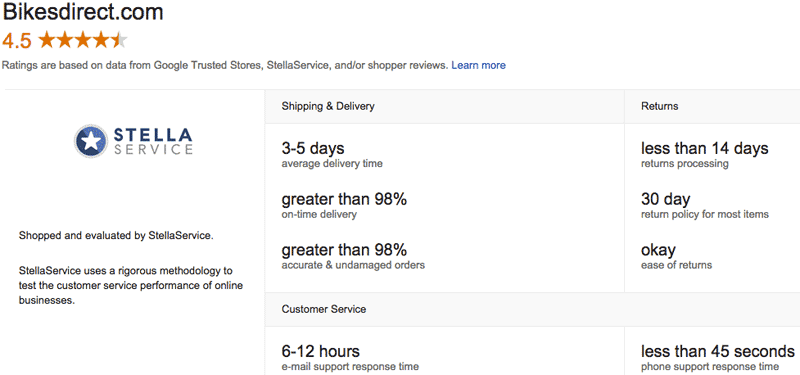 ---