Save Up to 60% Off Bicycles From BikesDirect.com
FREE SHIP 48 STATES ON ALL BICYCLES FREE SHIP*

Gravity 2023 Bullseye Monster
Aluminum Design, Disc Brake Fat Bikes, Mountain Bikes


Do Not Use Pictures for Selecting Sizes. Use Links Below and Click to see enlarged photos
StealthSuperDark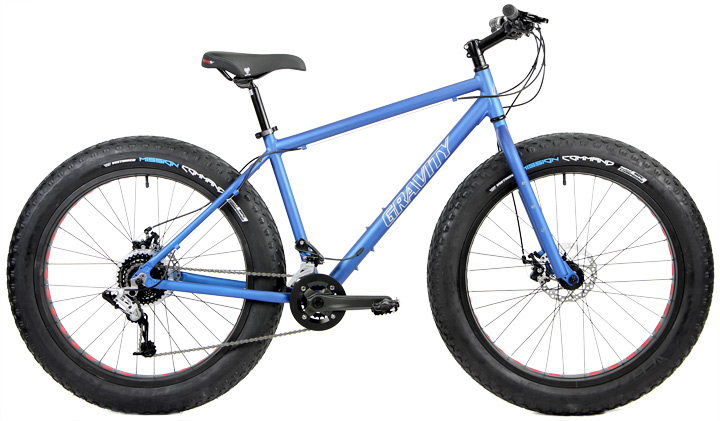 (Satin) MatteNauticalBlue
Customer Video BullsEye Monster (4inch tire version)
Click For: Video | Reviews | Specs | Sizing Guide | Gallery of Detailed Pics | Geometry
NOTE: All Forks have Triple Braze-ons. New VeeRubber Tire Graphics will be as shown in bikes above
IMPORTANT: READ THIS PRIOR TO ORDERING

NEW 2023 Model: New Price due to lower Freight Costs and Negotiations.
No retroactive price adjustments as previous shipments costs much more.

Lock-In Now at $599. Price may rise when sales goals are met.
SALE FAQ: Q: How is this price so low, near comparable dealer wholesale? It's hundreds to thousands below other brands similar spec bikes, What corners are being cut? A: No Corners have been cut on quality. BikesDirect has cut expenses: 1) Minimal Advertising, 2) NO Sales Commissions, 3) No physical store overhead, 4) No inflated Corporate pay structures
The Deal: See Pull down menus below. Warning: *Order now to lock in your sale price and selection. Price Rises As Sales Goals are Met.

The Process: When you order, your card will be billed for the full amount. "days".
Your Shipping Address: Please ensure it's correct when ordering. Last minute changes incur delays and/or extra costs. Change Shipping address on the 3rd page of checkout. Click on "change" beside the address. Tracking shows movement in 2-3 business days, most take 5 to 7 days to arrive by Ground (Not inc. Weekends/holidays)
SALE From $599

(Compare $1399+)


BREAKING NEWS: 1: Ships NOW, This is a 2023 bike! 2: Beat price increases, order now. Prices will rise due to inflation, massive increases in parts and freight costs. GOOD NEWS: Order Now to lock in the sale price. Specs May Update to Newest 2023 parts, no extra charge.


Add to Cart and Check Out Now Before PRICE RISES
Shimano SRAM X4 2X8 Speed
Disk Brake Fat Bikes

Gravity 2023
Bullseye Monster
SALE ONLY $599 (List $1399)
Ships Signature Req'd

SuperWide 4 Inch Tires
Strong+Light Aluminum Frames
Powerful Disk Brakes
170mm Symm Rear

Save up to 60% Off List Prices
Buy Factory Direct from Bikesdirect
Compare to $1500 Salsa Surly MukLuk, Pugsley, Moonlander, 9Zero7, Carver Fat bikes


Use pull-down below to select size/color. PullDown May Show Sold Out Sizes. Cart Doesn't Reserve Items. Select Size, Then Checkout. Don't See Size/s? Get Restock Emails At This Link
NOTE: Well equipped with 80mm Wide Rims PLUS Mission Command Tires, Forks have Triple Braze-ons
SALE ONLY $599.95 ORDER NOW

Use Your Visa/MC/Disc/Amex.
PayPal is optional

Price Includes Ground Shipping
to 48 US (5to7 Day Delivery)
(AK/PR/HI addtl charges)
(Email us for Delivery to PO Box/APO/FPO)

We have sold thousands of bikes. A high level of engineering and attention to detail is seen on all Fat bikes we sell. Happy customers send friends and family to buy these incredibly capable Fat bikes all the time.


Real Customers Say:

FB-MTBR.com
"I have had my monster for about 3 months now and have put about 500 miles on it. I love this thing…BD customer service was awesome… Love the beast for playing, love to ride the monster."

DD-MTBR.com
"I CAN tell you for sure that the bullseye monster is a lot of bike for $500 and a great platform to build off of…Still taking everything I can dish out."

OB-MTBR.com
"Mine has 3000 trouble free miles. Well worth the money."

DDG-MTBR.com
"Overall im feeling pretty stoked about this bike and think I made a great choice. …i am 100% satisfied. i feel like i got more than what i payed for. I still think that this is the best money I have ever spent on a new bike."

Check Out Customer Pics:
http://fcdn.mtbr.com/attachments/fat-bikes/922200d1410275418-gravity-bullseye-monster-grabumon-snow.jpg

http://img.tapatalk.com/d/14/08/03/jumynuhe.jpg http://fcdn.mtbr.com/attachments/fat-bikes/923241d1410658785-gravity-bullseye-monster-i3ydusz.jpg

http://fcdn.mtbr.com/attachments/fat-bikes/923242d1410658800-gravity-bullseye-monster-nskzzzo.jpg

Check Out Customer Video/s: (back to top)


Customers rave about these Fat Bikes
When you consider the discount BIKESDIRECT offers on these incredible quality Fat bikes; nothing else comes even close!

Buy one now at a discounted, factory direct price with shipping included to 48 states.
FAT BIKES! Ingeniously simple concept. Giant tires = more control in loose conditions.
Super wide tires "float" over snow and sand…the fastest bikes you'll ever ride on mud, bogs, deep sand and snow. As a bonus, they're great convo makers and super smile-generators
Check the large holes in the rim. Most fat bike rims today are single-wall, one layer of material in the rim. With the cutout single wall rims, the one cool side effect is that you can see the rim tape that bulges out due to the pressure in the tube. Awesome fun, we have these in contrasting colors.
How much does a fat bike weigh?
These bikes are big and Big FUN. Big weighs more. Most average fat bikes weigh between about 30 and 40 pounds. How much do these fat bikes weigh? Compare specs, aluminum fat bikes with similar parts will weigh the about the same.
How do Fat Bikes ride?
Way better than standard mountain bikes in snow? Yes. No Doubt. You'll ride over absolutely almost everything. Float over three feet of soft powder snow or deep sugar sand and laugh! You'll do a tons more riding – and way less walking.

Awesome in rough conditions such as snow, deflate the tires to provide more traction. Compare Fat Bikes to the difference between a car and monster truck SUV. Your fat bike can go more places, like sport utility vehicles.

The hottest trend in the mountain biking world right now. Fat bikes are hard to miss. Their giant, "fat" tires roll over virtually anything, which makes them an ideal winter mode of transportation because they help cyclists traverse snowy and icy trails with ease and traction. While the bikes were pioneered for snowy climates, such as found on the Front Range, they work well in a variety of environments including sand and loose rock, which has some local bike experts dubbing fat bikes as the all-around mountain bike of the future.
How are these Fat Bikes being sold for this Great Price? Other similarly equipped Fat Bikes cost over twice as much.
This is a promotional price for Bikesdirect customers ONLY. These Awesome Fat Bikes are selling out rapidly and will be up to $100 more late. At the current rate of sales, many sizes will be gone and may not restock for quite some time

Size Chart:
General Fit Guide Rider Height Range*
Bullseye Monster

14" fits most 5'4" to 5'7"
16" fits most 5'7" to 5'10"
18" fits most 5'10" to 6'0"
20" fits most 6'1" to 6'3"
22" fits most 6'3" to 6'6"

*approx. sizing - your final choice is up to your personal preferences
Between sizes? Size up for long upper body/legs, higher handlebars/longer bike. Size down for short upper body, more aggressive / lower handlebars.
Refused / Returned Fat Bikes: For much larger bikes such as Fatbikes the return fee would be $100 which is part of the cost of the return shipment and will be deducted from your refund.
Frame
ALLOY 6061 FRAME, W/DISC MOUNT ONLY, TIG WELD, replaceable rear derailleur hanger, H2O bosses, T/T-35MM, S/T-31.8MM, D/T-44M, Rear Rack Seatstay Brazeons, 170mm symmetrical rear
Fork
26" CrMo FatBike w/Threadless steerer 1.125"
Crankset
LASCO 22/32T 175MM ALLOY BLACK CRANK W/CHAINCOVER
Bottom Bracket
VP CARTRIDGE 100MM/144MM
Pedals
VP-992S BLACK PLASTIC BODY W/STEEL BLACK CAGE
Front Derailleur
SHIMANO Alivio FD-M410E
Rear Derailleur
SRAM RD-X4-A1 SILVER
Shifters
SRAM X4 TRIGGER
Cassette/Freewheel
11-34T-8 speed
Chain
KMC Z-72
Hubs

ALLOY BLACK W/QR, 135mm front, 170mm rear (symmetrical)

Spokes
14G STEEL BLACK W/BRASS NIPPLE
Rims
26"x32H HJC P-50 WIDTH 80MM W/BIG HOLES, ALLOY BLACK
Tires/Tubes
V-Rubber MISSION 26x4.00, WIRE BEAD, BK 72TPI
NOTE: New VeeRubber Tire Graphics may vary as shown on MatteBlack/Silver bikes above
Brakes
TEKTRO NOVELA DISC BRAKE W/160MM ROTOR
Brake Levers
TEKTRO ALLOY BLACK LEVER
Headset
VP-A71 BLACK W/M-1D ALLOY BLACK
Handlebar
ALLOY RISE HANDLEBAR, W:620MMxR:30MMx6 DEGREES, ALLOY
Stem
ALLOY 6061 EXT:90MM(14"~16")/110MM(18"~22")x10 DEGREES
Tape/Grip
WTB BLACK/GRAY KRATON
Saddle
WTB SPEED V SPORT SE, BLACK
Seat Post
Micro Adjust SP-214 400MM, ALLOY BLACK aluminum
Seat Post Clamp
ALLOY SEAT CLAMP
Sizes
See pull down
Colors
See Pull Down menu

Our low price saves you Hundreds of $ Compare to... Nothing compares
Ships Signature Req'd for your protection

Bikes come up to 90 percent assembled.
We suggest you take it to your local bike shop for final assembly & safety checks.