*ALL BIKES FREE SHIP 48
LTD QTYS of these Full Suspension
29er Mountain B

ikes


2016 Motobecane
29er Full Suspension Mountain Bikes
Fantom 29er4BY4 XO
SRAM XO 3x10, 30 Speed
SRAM Guide Hydraulic Disc Brakes
Click to see enlarged photo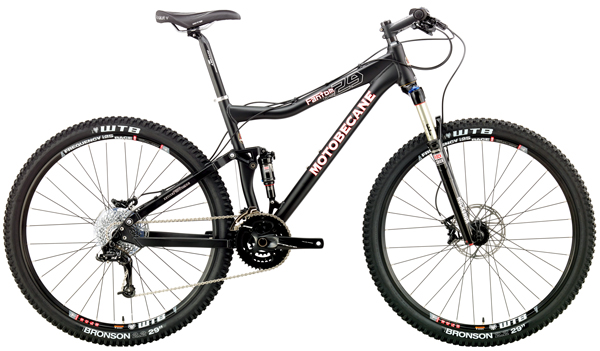 Click For: Video | Sizing Guide | Reviews | Specs | Geometry
Share this: | Twitter this: | More:
IMPORTANT: READ THIS PRIOR TO ORDERING

Before Ordering, Please Check Sizing HERE | Most riders choose a size they can clear the standover by at least 2.5 inches
If you see "sold out" anytime in the checkout process, you were too late. Sorry, No Rain-checks

The Deal: These bikes are available now SEE PULL DOWN MENUS.
Please check emails and tracking for notifications / updates Warning: At the special Price, Most sizes will sell out fast

Order now to lock in the current sale price and selection. The price may be up to $100 more later this year.
The Process: When you order, your card will be billed for the full amount. You will then get an automatic email reply by the next business day. For example a Friday order will get an email on Monday. Weekends/Holidays are not counted as "days".

Your Shipping Address: Please ensure your shipping address is correct when you place your order.
Last minute address changes will incur delays and/or extra costs. Your shipping address can be changed on the 3rd page of the checkout process by clicking on "change" beside the address.

The email contains a tracking number which will NOT show movement until the ship date in the pull down menu
After the bike ships, it will take 5 to 7 days to arrive via Ground (Not including weekends/holidays)
SRAM XO 3x10 Speed 29er
Full Suspension Mountain Bikes

2016 Motobecane
Fantom 29er FS
SRAM XO 30 Speed
SALE $2,199.95* (List $4999)
Ships Signature Required for your protection

Advanced Hydroform Aluminum Frame
FSA CRANKS/ Thru Axle Hubs
120mm Rockshox Reba 29
SRAM GUIDE Hydraulic Brakes,
WTB TCS Tubeless Compatible

Save up to 60% Off List Prices
Buy Factory Direct from Bikesdirect

Compare to $6,000+ Trek, Fisherbikes


Use menus below to select size/color
Go to Checkout to show stock status
Click Here for the Geometry Sizing Chart

We accept Visa/MC/Disc/Amex. PayPal is optional

Price Includes Ground Shipping
to 48 United States
(5 to 7 Day Delivery) (AK/PR/HI addtl charges)
(Email us for Delivery to PO Box/APO/FPO)


Share this: | Twitter this: | More:

Pay with US Issued Visa, MC, Disc, AMEX Cards. Paypal Is Optional
We have sold thousands of Motobecane Full Suspension mountain bikes. A high level of engineering and attention to detail is seen on all Motobecane mountain bikes. Happy customers send friends and family to buy these incredibly capable mountain bikes all the time.

This is the much anticipated Full Suspension 29er by Motobecane USA. Building upon over a decade of FS design, this 29er Full Suspension is equipped with 4 inches of terrain taming travel both front and rear.
Switchback Magazine
…surprising performance..power transfer…plush ride…proved nimble…comfortably laying down the power…lets you point and shoot the bike…for the weekend warrior or trail rider looking for an all day machine the Fantom 29 DS will NOT disappoint…
Bicycling Magazine says the Fantom Team carves the trails and has "components normally found on bikes costing thousands more..."
Switchback Magazine
"…wondering if we were getting enough performance out of some of the other bikes to justify spending over twice as much..."

Dirt Rag Magazine editor rides the Fantom Team in several 24 HOUR Races and raves:
"In addition to The Wilderness 101, I completed the Wild 100 (kilometers) and a 96 mile Duo Class 24-hour race on the Fantom Team. The biggest compliment I can give the bike is to say that I didn't have to think much about it during those events. ...The Fantom Team's handling is well mannered and intuitive. Carving through tight singletrack is a breeze...the bike loves to go downhill fast. During the aforementioned 24-hour race, there is a long, fast downhill where I routinely blew by hardtail racers like they were standing still. When my quarry wasn't eager to yield the A line, I went for the gusto and passed on the B line, relying on the Fantom Team's suspension to gobble up the rocks and ruts..." CLICK HERE FOR WHOLE REVIEW

Even when reviewed at list price, magazines and experienced riders feel the Motobecane mountain bikes are incredible values.
When you consider the discount BIKESDIRECT offers on these incredible quality mountain bikes; nothing else comes even close!

Buy one now at a discounted, factory direct price with shipping included to 48 states.
A high level of engineering and attention to detail is seen on all Motobecane mountain bikes.This is the much anticipated Full Suspension 29er by Motobecane USA.

Building upon over a decade of FS design, this 29er Full Suspension is equipped with 4 inches of terrain taming travel both front and rear.
Now Featuring
Thru-Axles Front and REAR
WTB TCS Tubeless Compatible Rim Wheelsets + SRAM Guide Hydraulic Disc Brakes
One of The Best Brakes
Plus get powerful control with rave reviewed SRAM Guide Disc Brakes and Rockshox Lockout front forks. Per SRAM: "SRAM Guide R, you have the power. Proven 4-piston calipers give you smooth, one-finger control. Features like Reach Adjust let you dial it in just right." These powerful Disc Brakes alone are worth $300+
Reviews from real riders:
U.L. "I couldn't believe how much better they (Guide Brakes) really were...control...nothing short of phenomenal."
T. O. "100% reliable for the 2.5 months I've been using them. Zero complaints"
Pete R. "Power is there in spades when you need it, but it was the modulation that I noticed"
NEW WTB TCS Tubeless Rims
Get Tubeless tech rims now. Tubeless wheelsets of this caliber with Precision bearings and Thru-Axles are sold by themselves are normally around $700 to 800+ So this is an incredible deal: You are getting a complete Shimano 29er with a pro-quality TCS Rim Thru-Axle wheelset. Get amazing technology, now!

WTB Says:
"Our TCS™ (Tubeless Compatible System) technology is the solution for riders seeking high performance, lightweight and durable mountain bike wheel systems that are easy to install, fun to ride and simple to service..."(Simply add your own TCS Tires and Sealant and)"...Say goodbye to air compressors, tire levers and pinch flats. Say hello to your full riding potential. "
Read more about the incredible tech's features and benefits: >Click Here<
Professional Racing Parts
No corners are cut, the FANTOM 29 FS has top-of-the-line Full Race specs. A Rockshox Reba 29er fork with up to 100mm of travel in the front and in the rear, the NEWEST Rockshox MONARCH RT3 rear shock with Advanced Floodgate Platform Technology.
Improvements Specific to this Motobecane USA 29er FS design:
1) Tapered headtube / steerer tube
2) Advanced hydroformed Aluminum frame for a strong and lightweight package
3) 15mm MaxleLite front axle for extreme steering precision
4) Room for 2.3" Tires (*most manufacturers)
5) 12mm Thru-Axle Rear, precision handling improvement
The drive train is race proven. FSA cranks and integrated MegaEXO BB. An FSA cartridge headset, FULL SRAM 3x10 XO double-action pod shifters / XO derailleurs and incredible SRAM Guide RS Hydraulic brakes and levers.
Some Interesting SRAM drivetrain facts
Lance Armstrong wins the Leadville 100 Mile offroad race with SRAM 10 speed
Nine out of the top ten riders in the opening round of a World Cup, won with SRAM drivetrain and brakes
The Sea Otter Classic, SRAM 2x10 speed took top spot in both men's elite cross country and short track, with Burry Stander and Todd Wells of Specialized Factor Racing taking the win.
Julien Absalon wins Madrid World Cup on SRAM components.
Click HERE to read more at the SRAM website

Professional Racing Handling
Motobecane USA has dialed in a race-proven geometry into this phenomenal ride. Very responsive and yet stable. Just like the award winning FLY Team hardtail, singletrack and switchbacks are all handled with ease.

Slow speed, high speed, technical to flat-out hammering, you'll rip the trails 'cause this bike is so darn capable and super plush.

With the Fantom 29 FS, you've got a super-capable full suspension 29er trail bike that'll do just about anything for Thousands less than any other bike.
SIZING
The Fantom comes in 42cm/Small/16", 47cm/Medium/18", 52cm/Large/20"

WARNING - Due to extremely High Demand we expect to sell out of these very soon
Sizing Guide
42cm/S - 5'7" to 5'9"
47cm/M - 5'10 to 6"
52cm/L - 6'1" to 6'3"
This is a general guide, if you have questions; please consult the geometry chart.
Sizing is a personal preference, the final choice is up to you
Between sizes? Size down for more aggressive/lower handlebars/ more straddle clearance/ Short legs/torso. If you size up, you may touch the top tube when you straddle the bike. Handlebars will be higher.
Frame

Hydroformed Butted and Geometric Multishaped Aluminum tubes,1 set H2O Bosses (Small has no bosses), Four Bar Rocker Arm. Gusseted SL 7005 Aluminum (Disc Brake Equipped) Super Smooth Sealed Cartridge Bearings at critical pivots, replaceable rear derailleur hanger (Customers are reporting there is Room for 2.35" tires)

Fork

ROCKSHOX REBA RL 29", TAPERED STEERER ALLOY 1-1/8" to 1.5" Taper, 42/47/52CM=193/203/203MM, post mount disc brake, 15mm x 100mm with Maxle Lite QR AXLE, TRAVEL:120mm, External rebound, low speed compression to 'Lock' with internal Floodgate

ROCKSHOX MONARCH RT3 AIR REAR SHOCK
EYE TO EYE:165mm W/External rebound and 3 position Floodgate switch


Crankset

FSA 10SPD Afterburner MegaExo, 44x32x22T, 175mm

Bottom Bracket

FSA BB-7000 MEGAEXO BB

Pedals

n/a (requires 9/16 axle)

Front Derailleur

SRAM, XO 3x10 34.9mm TOP PULL

Rear Derailleur

SRAM XO Long Cage

Shifters

SRAM XO, SHIFT LEVER, (30 gears total)

Cassette/Freewheel
SRAM PG1070 12-13-15-17-19-22-25-28-32-36T
Chain

KMC X10SL, Silver, 10 Speed

Hubs
FR: Gravity Front 15mm Thru Axle / RR: GRAVITY DISC REAR HUB.2 SEALED BEARINGS.POLISH ANODIZED BLK. W/ 12MM THRU HOLE AXLE 14*32H.OLN:142MM. LASER-ETCHED LOGO, COMPATIBLE WITH SHIMANO 8/9/10/11-SPD SHIMANO AXLE UNIT FOR E-THRU SERIES, SM-AX76 AXLE DIA:12MM
Spokes

F/R: ( 3 CROSS ) BLK SPOKES W/BRASS NIPPLES

Rims

WTB ST i25 TCS 29"  W120-1972   32 hole drilling, Disc Only, Black Anodized; Single Eyelets, PV drilled *See FAQ page for Tubeless system setup

Tires

WTB Bronson 29x2.2 Comp With PV Tube ,( 52/56 ) 27tpi Casing, Wire Bead, presta valve tubes (Customers are reporting there is plenty of room for 2.35" tires)

Brakes

SRAM Guide RS HYDRAULIC DISCBRAKES, 180mm CENTERLINE Rotor

Brake Levers

SRAM Guide RS HYDRAULIC

Headset

FSA NO. 57 , ORBIT 1.5 ZS ,FOR 1-1/8"/1.5" FORK STEM  Internal Alloy Cups, 1-1/8" ACB Upper, 1.5" ACB Lower w/Std 15mm top cover

Handlebar

RITCHEYMTN RIZER ( C:31.8mm ), ALLOY 6061 RISE H/BAR(UPSWEEP 17° , BEND 9° ) B/CENTER: 31.8mm.R/W:20/670mm.BB BLK

Stem

RITCHEY STEM COMP 4-AXIS 84/6D-31.8 ( C:31.8mm ) ALLOY "TIOGA-OS" A-HEAD STEM.EXT:(6°)100/110/120mm FOR 42/47/52CM,C/S:31.8x28.6x42mm. BB BLK

Tape/Grip

WTB DC Trail Grip Dual DNA Compounds, Classic Logo Pattern, full length

Saddle

WTB Rocket V saddle, CrMo-rails, Black

Seat Post

RITCHEY SEATPOST 2B 400mm OS ALLOY BB BLACK S/POST W/ALLOY BLK  HEAD 31.6x400mm

Seat Post Clamp

Super Light Polished Aluminum

Sizes

Small/42cm, Medium/47cm, Large/52cm

Colors

MatteBlack

Compare to other Full Suspension 29er XO SRAM equipped Mountain Bikes at $5,000 to $6,000


PRICE INCLUDES GROUND TO 48 US
SENT SIGNATURE REQUIRED FOR YOUR PROTECTION

Bikes come up to 90 percent assembled.
We suggest you take it to your local bike shop for final assembly & safety checks.