*ALL BIKES FREE SHIP48 FREE SHIP 48


LTD QTYS of thes

e 5.9" Travel Full Suspension 29ER / eBoost Mountain Electric bikes
EARLY RELEASE 2024 Motobecane HAL eBoost EP8 TEAM
Advanced Integrated Battery, Shimano XT M8100, 1X12 / EP801 Electric MidDrive
29ER Full Suspension Electric Mountain eBikes
Shimano XT Hydraulic Disc Brakes, Rockshox LYRIK 150mm Forks


Click to see enlarged photo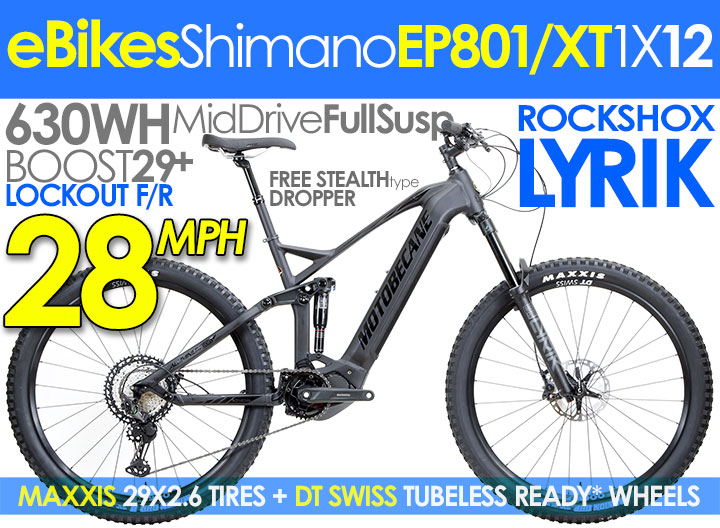 MatteBlack
| | |
| --- | --- |
| Industry Leading Shimano Steps EBike Mid Drive System | Industry Leading Shimano Steps EBike Mid Drive System |
Click For: Sizing Guide | Customer Reviews | Shopping Guide Comparison | Specs | Geometry
NOTE: This eBike Cannot Ship to Hawaii / Puerto Rico or Alaska
Customer Review, Motobecane HAL eBoost: Scott F.
"...great job…I own 3 bikes that cost over $9000 each and I had more fun on this (HAL eBoost PRO) bike than I've had in a long time."
Share this: | Twitter this: | More:
IMPORTANT: READ THIS PRIOR TO ORDERING
The Deal: available for PrePayShips June 2023 Approx Dates, May ship earlier or later by a few days. See Pull down menus below.
WARNING: *Order now to lock in your best deal. Price WILL GO UP As Sales Goals are Met.

The Process: When you order, your card will be billed for the full amount. You'll get an auto-email the next business day. Fri. Sat. Sunday orders get emails on Monday. Weekends/Holidays are not counted as "days".
Your Shipping Address: Please ensure it's correct. Last minute changes incur delays and/or extra costs. Shipping address can be changed on the 3rd page of checkout. Click on "change" beside the address. Tracking shows movement around the approx ship dates. When they ship, most take 5 to 7 days to arrive by Ground (Not inc. Weekends/holidays)
(COMPARE $8999-$9999) SALE PRICE $4495 (PRICE MAY RISE SOON)

Incredible New EARLY RELEASE 2024 UPGRADES!


28MPH! TOP OF THE LINE MID DRIVE
SHIMANO EP8 ELECTRIC MID DRIVE MOTOR
= Quieter, Lighter +More Powerful 85NM Torque
DT SWISS M1900 SPLINE® Black (30mm) BOOST WHEELS
= High End, Tubeless Compatible Worth ~$609
We're keeping the price low BUT due to upgrades it may increase AT ANY TIME
Order Now to Lock In The Best Deal
BREAKING NEWS: 1: Ships Soon, New EARLY RELEASE 2024 bike! 2: Beat the price increase by ordering now
Bike prices will go up due to increases in parts cost and massive increase in freight charges
GOOD NEWS: Order Now and lock in at that price even if our cost on bikes or transport rises. Lock in the Deal, Order Now. PRICE May Go Up Suddenly
28MPH! Electric Shimano MidDrive eBikes
Shimano EP801/XT 1X12 Speed 29er
Full Suspension eBoost Mountain Bikes
Fits 27+ and 29er Wheels

EARLY RELEASE 2024
28MPH! Motobecane 29er
Full Suspension MTB
HAL eBoost EP8 TEAM
Shimano EP801 Electric MidDrive
SALE $4495.95
Will Be $4999+ Soon
(List $8995)
Ships Signature Required

28MPH! Top Of The Line System
Advanced Integrated Battery
Top Shimano EP801 Electric MidDrive
NEW Highly Active Link Suspension
NEARLY 6 INCHES OF TRAVEL
Incredible Climbing/ Control
DT SWISS Tubeless Compat Rims
Advanced Hydroform ALU Frames
CNC KNUCKLE BOX
160mm Rockshox LYRIK Select+
Shimano XT Hydraulic Brakes
Internal Dropper SeatPost Routing

Save up to 60% Off List Prices
Buy Factory Direct from Bikesdirect
Compare to $5,000 to $8,000+ eBikes from Trek, Specialized 29er


Use pull-down below to select size/color.

PullDown May Show Sold Out Sizes. Cart Doesn't Reserve Items. Select Size, Then Checkout. Don't See Size/s? Click> Get Restock Emails

NOTE: Now Promo Priced Only $4495 Price may increase +$200 soon. These will sell out. Save Big, Shop Now:

We accept Visa/MC/Disc/Amex. PayPal is optional

Price Includes Ground Shipping
to 48 United States
(5 to 7 Day Delivery) (AK/PR/HI addtl charges)
(Email us for Delivery to PO Box/APO/FPO)


Share this: | Twitter this: | More:

Pay with US Issued Visa, MC, Disc, AMEX Cards. Paypal Is Optional
We have sold thousands of Motobecane Full Suspension mountain bikes. A high level of engineering and attention to detail is seen on all Motobecane mountain bikes. Happy customers send friends and family to buy these incredibly capable mountain bikes all the time.
Customer Review, Motobecane HAL eBoost EP8 TEAM: Scott F.
"Just a quick note to let you know how pleasantly surprised I am at the quality of this new Ebike (HAL eBoost EP8 TEAM). You've done a great job…I own 3 bikes that cost over $9000 each and I had more fun on this (HAL eBoost EP8 TEAM) bike than I've had in a long time."

This is the much anticipated mid-fat, Electric Mid-Drive Plus Bike with Boost Axles HAL eBoost (Highly Active Linkage) by Motobecane USA. Building upon over a decade of FS design, this HAL eBOOST 29er+ Full Suspension is designed for up to 5 inches of terrain taming travel both front and rear. The HAL Linkage uses a chainstay mounted pivot for even more supple suspension tracking and incredible control even while applying the brakes. Chainstays are optimized on the HAL eBoost models for incredible Billy Goat climbing and traction.
Explore New Grounds with Shimano STEPS e-MTB - intuitive e-MTB system for ultimate fun and freedom. Ride further, faster, longer, while still training your fitness and honing skills. For you trail chasers out there. Ride down forest paths, mountain ridges and breathe in the scent of freedom. Shimano STEPS MTB makes climbing easy. Light for easy handling. Levels the field for riders of all skill levels. Taking you places you couldn't reach before.
What Does the HAL eBOOST Electruc Full Suspension Bikes Compare to? Price and Features
Your Motobecane HAL eBoost Full Suspension bikes have:
The Best price and Parts for Top Performance. For the price difference, you can buy parts for your HAL eBoost and make it way lighter and STILL have $$$ left over to go on a sweet MTB vacation. :)

| eBike Compare | Motobecane eBoost EP8 TEAM | Trek Rail 7 Gen3 | Specialized TurboLevo SLComp |
| --- | --- | --- | --- |
| 28MPH CLASS 3 | YES | no (20mph) | no (20mph) |
| Price | SALE $4495* (List $9999) | $5649* (MSRP) | $7000* (MSRP) |
| Frame Material | Hydroformed Aluminum | Hydroformed Aluminum | Hydroformed Aluminum |
| Electric Motor System | Shimano EP801 MidDrive | Bosch Performance MidDrive | Specialized Branded MidDrive |
| Motor/Battery | Shimano 250W/630WH integrated | Bosch 250W/ 500WH | Specialized 240W/ 320WH |
| TORQUE POWER | 85 Nm | 85 Nm | 32 Nm |
| Derailleur/Shifters | FULL Shimano XT 1X12 M8100 | Two Steps Lower Level Deore | SRAM NX (Entry/Mid Level) |
| Suspension Fork | Rockshox LYRIK SELECT+(Pro) | Rockshox 35Gold (Entry) | Fox Performance34 (Entry) |
| Front / Rear Travel | 160mm / 150mm | 160mm / 150mm | 150mm / 150mm |
| Brakeset | Shimano XT Hydraulic | Two Steps Lower Level Deore | SRAM Guide |
| Crankset | Shimano e-Specfic | e13 Brand | Praxis Brand |
| Wheels | DT SWISS Tubeless~$609Value | House Brand | House Brand |
| Tires | Maxxis MINION 60TPI (Pro) | House Brand (Heavy Wire) | House Brand |
| Price | $4495+ FREE SHIP 48* | $5649 + Local Tax | $7000 + Local Tax |
A NOTE About Weights of Full Suspension eBikes
Weights of eBikes. The $7000 Specialized Turbo Levo SL weighs 41.7 lbs (outdoorgearlab.com info) The $5650 Trek Rail 5 Gen 3 weighs 53.5 lbs (mtbdatabase.com). The $4495* ($9999 List) 28MPH Motobecane HAL eBoost EP8 TEAM will weigh in that range and possibly less due to the much lighter weight Shimano EP801 motor. (*MSRP and Sale price fluctuate)
What Are the Widest Tires One Can Use on the HAL BOOST Full Suspension Plus Bikes?
The HAL eBoost PRO frames have 140mm Travel and a rear tire clearance up to 96mm. THIS is the eBoost EP8 TEAM Frame, it has upgraded to 150mm of Travel and Clearance for up to 29erx3inch tires. The Rockshox LYRIK Forks have 81mm clearance on the front. Note, clearance for non stock tires are not guaranteed. Always allow enough room between the tires, frame, parts and fork so your tires don't rub. (ie- you cannot run a 96mm tire in the rear nor 81mm in the front)
Shimano Mid Drive Is the BEST eBike System
Mid-drive keeps the center of gravity low = best handling
Mid-drive keeps the rear suspension loads optimized = best suspension performance
Mid-drive = you can use any Level of wheels you desire up to top tier custom level
Shimano is the Leading Manufacturer of Bicycle parts and Top Tier in eBike technology = best warranty and support and best integrated systems
Shimano Steps EP8 Reviews
BAV "…very happy with it. Engine works great…Works great for technical stuff, especially the torque based power in trail mode. Boost is great for really steep climbs. I can recommend it definitely!"
MTBR.com editor rides a 6by6 and raves: "...Frame angles are dialed...Held up in big descents...Great value..."
Rating: 4 Flamin' Chili Peppers-out-of-5
"...we're happy to report that the bike checked out just fine…suspension is active vertically and stiff laterally…responsive…held up in the big descents without complaint….angles were just right at 67.5 and 73.5 respectively. For all-around trail riding, it definitely did the job. And at that price you'll likely have money left over for upgrades. Frame is stout and laterally stiff, Frame angles are dialed, wheels are strong…attractive lines on it with a top tube bend for improved clearance. Tubes are oversized and welds are beefy.

Component choices are smart…great value bike on the new 29er wheel size….best deals and components to deliver a solid package…models shipping now have an updated rear shock called the Monarch R rear shock with Fast Black 7075 shaft and Rapid Recovery rebound damping…this rear shock has excellent, supple performance and has very good mid-stroke damping support.

Bottom line it's an attractive and affordable package that leaves plenty of budget for down-the-road upgrades. .. ridiculous value and it will be an awesome performer.

Bicycling Magazine says the Fantom Team carves the trails and has "components normally found on bikes costing thousands more..."

Dirt Rag Magazine editor rides the Fantom Team in several 24 HOUR Races and raves:
"In addition to The Wilderness 101, I completed the Wild 100 (kilometers) and a 96 mile Duo Class 24-hour race on the Fantom Team. The biggest compliment I can give the bike is to say that I didn't have to think much about it during those events. ...The Fantom Team's handling is well mannered and intuitive. Carving through tight singletrack is a breeze...the bike loves to go downhill fast. During the aforementioned 24-hour race, there is a long, fast downhill where I routinely blew by hardtail racers like they were standing still. When my quarry wasn't eager to yield the A line, I went for the gusto and passed on the B line, relying on the Fantom Team's suspension to gobble up the rocks and ruts..." CLICK HERE FOR WHOLE REVIEW

Real Customer Reviews of Motobecane HAL Series Full Suspension Mountain Bikes
AFT / MTBR.com "Just put 11 miles on the new bike! This thing is amazing!! Can't get enough of these shocks, that and the rear derailleur shifts so damn quick. Love it!"
Daniel E. MTBR.com "Wow this bike is incredible…this is the best and probably most expensive bike I've ever ridden, but I couldn't have even imagined a bike feeling this great on a trail. Not sure on the weight, but it feels very light and quick (I'm tubeless, which may help) while still being stiff. The travel is a lot, but I was able to use what looked like 80-90% on my ride today while still feeling efficient on the flats and climbs, noting that I was playing around with the rear lockout…Everything about this bike is great, looks amazing, hell even the saddle is very comfortable.
JR Glenni MTBR.com "…my Hal6 Expert climbs great. Down shifting is firm and quick even when shifting late or downshifting more mid climb, and I didn't really notice pedal bob on the climbs. The front did tend to lift up on me more than I was used to, but I'm coming from a hard tail 29'er that was more of an XC design with a longer wheelbase, so that's not surprising. I was still able to climb pretty quickly with it, and I don't think the light(er) front end will be an issue as I get more used to it."
Jeff R MTBR.com "I am also coming from a hardtail 29er, but feel that my hal6 climbs just as good if not better on technical climbs. I'm not fighting for my back wheel to maintain traction and it soaks up the roots, rocks, and bumps… On Saturday, broke my strava record for a technical climb I do regularly on my hal6 without even trying…All in all, I'm very impressed with the overall performance of the bike…"
HAL Series Motobecane Compared to Specialized Stumpjumper Elite FSR
P / MTBR.com "...short little review after ~5 miles of techy singletrack with around 1,000ft of climb. First off, I'm coming from a 2013 Stumpjumper Elite FSR 29er and have the Hal6 PRO for comparison. Obviously, the suspension on the moto is a HUGE upgrade. My first time riding a Pike and I must say, I'm sold. I was actually pedaling thru a lot of the rougher sections instead of trying to pick a perfect line. Also found it much easier to throw the bike around and clear a lot of the super tech stuff. Definitely a noticeable difference in geometry as well. I felt like I was in a much better position when I was pointed downhill. One of my biggest gripes with the Stumpy was pedal clearance. You basically can't pedal thru a turn on the Stumpy without striking a pedal. Didn't have a single strike on the Moto today…All in all, couldn't be happier with how everything performed on my first ride. ...feels fantastic on the downhill/tech sections.
HAL Series Motobecane Compared to Specialized Stumpjumper FSR
CC H. MTBR.com "I did another really technical climb on my hal 6 pro...I made it way further than I ever have on any other bike. Its narrow, rocky, rooted, and steep and even I was amazed at what I made it through. Part of the advantage of this bike is the high pedal clearance. I could also feel the back just sticking down, never spun out once even when leaning forward. I attribute that to the suspension, and the nice tires. The feeling of the bike under me is light and stiff. I assume the hal5 will climb better than the hal 6 because of a steeper head angle, and less travel front and rear. I will be doing a direct comparison with my friends stumpjumper FSR comp. the frame angles and measurements are almost identical on paper except for the seat tube on the Hal being steeper by 1.5 degrees…"

Even when reviewed at list price, magazines feel the Motobecane mountain bikes are incredible values.
When you consider the discount BIKESDIRECT offers on these incredible quality mountain bikes; nothing else comes even close!

Buy one now at a discounted, factory direct price with shipping included to 48 states.
A high level of engineering and attention to detail is seen on all Motobecane mountain bikes.This video is of the 29er, cousin to the much anticipated Full Suspension 29er by Motobecane USA.

Building upon over a decade of FS design, these bikes are superb offroad machines. The HAL (Highly Active Linkage) Design represents to top of the food chain. Super supple and more control than ever.
Professional Racing and Trail Proven Parts
Imagine the trails you will dominate with massive traction Maxxis Tires and a Rockshox LYRIK 150mm up front with up to 6 inches of travel in the rear. Test riders Compare the HAL eBoost to Full Suspension Fatbikes like the Salsa Bucksaw. They say the HAL eBoost is a turbo-charged Dakar Rally car. The Salsa Bucksaw would be more like a logging truck.
No corners are cut, the HAL eBoost EP8 TEAM Shimano EP801 Electric MidDrive has top-of-the-line Full Race specs. A Rockshox LYRIK 29er+/29er Boost 160mm fork +nearly 150mm (5.9") in the rear, the NEWEST Rockshox Deluxe Air rear shock with Rapid Recovery Rebound Technology. Rockshox LYRIK forks MSRP up to $900+ and rated as one of the best, if not THE Best long travel fork Period!
Improvements Specific to this Motobecane USA 29er eBoost FS design:
The HAL (Highly Active Linkage) Design represents the top of the food chain. Super supple. Climbing, descending and braking with more control than ever. The HAL eBoost Series features shorter chainstays than ever before = Billy Goat climbing ability and traction.

HOT DT SWISS Tubeless Compatible Rim wheelsets
1) Huge Up to SIX inches of Highly Active Linkage Travel with 160mm Rockshox LYRIK Forks
2) Tapered Steerers and BOOST Spacing Thru Axle hubs FRONT AND REAR
3) Advanced hydroformed Aluminum frame for a strong and lightweight package
4) FULL CNC Aluminum Knuckle Box Suspension
5) Use 27PLUS or 29er Tires, Frame has Room for up to 29/27.5x3" Tires (*most manufacturers)
(Rear Triangle inner width at wheel approx 96mm, Forks are 81mm)
6) Internal Dropper SeatPost Routing
DT SWISS Tubeless Rims
Get Tubeless tech rims now. Tubeless wheelsets of this caliber sold by themselves are normally around $600. So this is an incredible deal: You are getting a complete Shimano mountain bike with a pro-quality Tubeless Compatible Rim wheelset. Get amazing technology, now!

WTB Says:"Say goodbye to air compressors, tire levers and pinch flats. Say hello to your full riding potential."
"...the solution for riders seeking high performance, lightweight and durable mountain bike wheel systems...
easy to install, fun to ride and simple to service..."
(Simply add your own Tubeless compatible / TCS Tires, Sealant and TCS kit)"...
Read more about the incredible tech's features and benefits: >Click Here<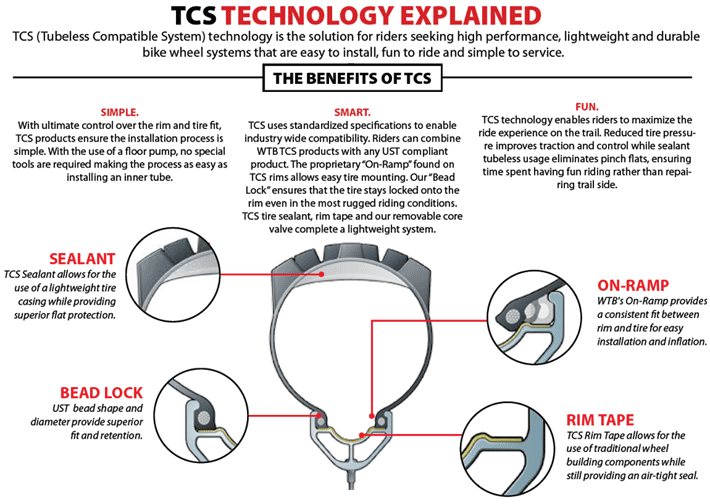 .
Features Advanced DT SWISS M1900 SPLINE® Black ( 30mm ) " WHEELSET worth $609+ MAXXIS Folding Bead Tires worth over $120. Features incredible ride quality + virtually flat free performance (See FAQ page for Tubeless system setup)
Professional Racing Handling
Motobecane USA has dialed in a race-proven geometry into this phenomenal ride. Very responsive and yet stable. Just like the award winning FLY Team hardtail, singletrack and switchbacks are all handled with ease.

Slow speed, high speed, technical to flat-out hammering, you'll rip the trails 'cause this bike is so darn capable and super plush.

Super Versatile: Turbo Full Suspension Plus/MidFat Bikes
With the HAL BOOST series, you've got an incredibly capable full suspension mountain bike that'll do just about anything for Thousands less than any other bike.
What is eBoost: The HAL eBoost is a Boost spacing mountain bike. Boost is a new dropout standard designed to widen the hubs on the previous standard MTB spacing wheels. The rear axle is wider by 6mm to 148mm and the front axle by 10mm to 110mm. Wider flanges = wider bracing angle for spokes = a stronger and stiffer wheel. Allows the use of 29er wheels with higher strength and stiffness for top performance. Also, More tire clearance, ability to use 27PLUS tires and with shorter chainstays for superior handling and climbing.
Equipped with DT SWISS 27PLUS Tire/Wheels
With the HAL eBoost's stock 29er tires you can hang with virtually anything on the trail. No worries about dealing with a Fat bikes super wide BB, the crank/pedals are no wider than a normal bike. Virtually all the float and traction of a full on full suspension fat bike, without excess flubber and jounce.
The HAL eBoost is a turbo-traction, climb and descend just about anything enduro / trail plus mountain ebike. But- that's not all...
Warp Speed! Fits 27.5/29er Boost Spacing Wheels/Tires
This has Boost 29er wheels and tires (fits up to 27.5x3*) it is a warp speed 29er Boost Enduro / XC Rocket! (*not all tire/wheel combinations guaranteed to fit due to variations in tire manufacturers)

WARNING - Due to extremely High Demand we expect to sell out of these very soon

HAL eBoost EP8 TEAM (integrated battery model) Sizing Guide
16in - 5'6" to 5'8"
18in - 5'8" to 6'
20in - 6' to 6'4"

This is a general guide, Sizing is a personal preference, the final choice is up to you. Between sizes? If you size up, you may touch when you straddle the bike.

Frame

Advanced Integrated Battery, Custom Mid-Drive Full Suspension with BOOST Axle Spacing 29 / 29er+ SUSP. MTB ALLOY(6061) WHEEL TRAVEL: Up to 140mm.  B.B. SHELL: For Shimano EP801, ALUMINUM 41x92MM ( KNUCKLE BOX MADE BY CNC ) Hydroformed Butted and Geometric Multishaped Aluminum tubes,1 set H2O Bosses (Small has no bosses), Four Bar Rocker Arm with HAL Linkage. Gusseted SL 6061 Aluminum (Disc Brake Equipped) Super Smooth Sealed Cartridge Bearings at critical pivots, Dropouts: ALUMINUM VERTICAL W/ALUMINUM REPLACEABLE HANGER W/POST DISK MOUNT. O.L.N:148MM, Stealth Dropper Post Routing
ALUMINUM 1-1/8"/1.5" ( 50x44/62x55.95mm ) ,L: 41/46/51M=120/120/130mm

Fork/ Rear Shock

Fork: ROCKSHOX LYRIK SELECT+, CHARGER 3, RC2, 29" BOOST, DEBONAIR+, E-MTB DECAL, DIF BLACK, 44 OFFSET, 1.5 TAPER D1 STERER: ALLOY (1.5" to 1-1/8" tapered) CROWN: Forged, hollow aluminum, STANCHION:35mm tapered wall aluminum, BLADE: Magnesium, 180mm post disc mount, TRAVEL:160mm, BOOST 15X110 MXL ULTIMATE W/Extl begin stroke rebnd, low speed comp, high speed comp (FOR 27.5"x2.8"- 3.0"/ 29" x2.6"- 3.0" TIRE)
Rear: ROCKSHOX DELUXE SELECT+ RL, DEBONAIR, 2 TOKENS, MM TUNE, 430LB LOCKOUT, TRUNNION STANDARD B2, AIR REAR SHOCK, EYE TO EYE:205mm TRAVEL: 60mm W/External rebound W/LOCKOUT


Crankset
SHIMANO CRANK ARM SET, FC-EM600, 175MM, SHIMANO CHAINRING SM-CRE80-B, 34T
Bottom Bracket
SHIMANO MidDrive EP801
Pedals
Platform MTB 9/16" CR-MO AXLE, BLACK PP BODY, STEEL BLK CAGE W/BS REFL
Front Derailleur
N/A
Rear Derailleur
SHIMANO RD-M8100, XT, SGS 12-SPEED, TOP NORMAL, SHADOW PLUS, DIRECT ATTACH
Shifters
SHIMANO SL-M8100-IR, DEORE XT, RIGHT, 12-SPEED RAPIDFIRE PLUS, DIRECT ATTACH TO BL (I-Spec EV)
Cassette/Freewheel
SHIMANO CS-M8100-12, DEORE XT, 12-SP(HYPERGLIDE+), 10-12-14-16-18-21-24-28-33-39-45-51T
Chain
SHIMANO, 122LINKS FOR HG 12-SPEED, W/QUICK-LINK
Hubs
DT SWISS M 1900 SPLINE® Black ( 30mm ) " WHEELSET
RIMS DT SWISS 29" ALLOY BLACK ANOD. TUBELESS READY ( 622x30mm ) 28H W/FV
Includes: Tubeless tape 32 mm, Tubeless valve MTB 32 mm ( IN PARTS BOX )
SPOKE DT SWISS STRAIGHTPULL DT CHAMPION BLACK , F/R:28/28PCS S.S. 3 CROSS W/DT PRO LOCK SQUORX ALUMINUM BLK NIPPLES
F/HUB DT SWISS NEW SPLINE, MATT BLACK 28H. (CenterLock) OL: 15x110MM Thruaxle Boost
F/HUB ThruAXLE ROCKSHOX BOOST 15x110 Maxle Ultimate . IN FORK
R/HUB DT SWISS NEW SPLINE 370 MATT BLACK W/Ratchet LN 18 SYSTEM , 28H. ( Center Lock ) , OL: 12x148MM Thruaxle Boost ,COMPATIBLE SHIMANO Microspline 12S,
R.HUB THRU Axle QR KINESIS 12*180*M12*P1.75,THREAD 20mm, BLACK ANOD
Tires

MAXXIS MINON DHF/DHRII 29x2.6", EXO/TR 60TPI, Folding Aramid Bead

Brakes
SHIMANO DISC BRAKE, DEORE XT, M8100 / SHIMANO ROTOR FOR DISC BRAKE, CenterLock, 180MM W/LOCK RING
Brake Levers
SHIMANO DISC BRAKE, DEORE XT, M8100
Headset
FSA 57E ORBIT 1.5 ZS FOR 1-1/8"/1.5" STEERER, Internal Alloy Cups, 1-1/8" ACB Upper, 1.5" ACB Lower w/12.3mm top cover W/39.78 BALL RACE ( 28.6x44/55.95x39.78mm) (H:19.8 mm )
Handlebar
MTB ALLOY ALLOY 6061 RISE H/BAR ( 9° ) B/CENTER: 31.8mm.R/W:20/760mm. SS.A. BK
Stem

MTB ALLOY 6061 A-HEAD. EXT: (7°) 60/70/80/90MM: 38/42/46/50CM, C/S: 31.8x28.6 x41mm

Tape/Grip
VP LockOn PP/TPR MATERIAL W/ Single Aluminum Clamp, BLACK
Saddle
WTB Rocket 142x265 COMP Satin Steel Rail, PU Leather Cover, Embossed White Logo
Seat Post
FREE KIND SHOCK DROPPER POST E-TEN- I (StealthlType INTERNAL ROUTE) 30.9x 385MM, TRAVEL:100MM W/KGP REMOTE
Drive Unit
SHIMANO DRIVE UNIT, DU-EP801, MID SHIP POSITION, FOR 28mph (US CLASS 3)
Battery
SHIMANO BATTERY, BT-EN806, POSITION : FRAME (DOWN TUBE/INTEGRATED), 630Wh
Speed Sensor
SHIMANO SPEED SENSOR UNIT, EW-SS301
Cycle Computer/Display
SHIMANO CYCLE COMPUTER, SC-EN610, CLAMP BAND DIAMETER 31.8MM
Seat Post Clamp
Ultra Light Alu+ Bolt
Sizes
See pull down
Extras
BATTERY HOLDER SHIMANO BATTERY MOUNT, BM-EN800-A, W/KEY UNIT MOUNT, BATTERY CABLE=300MM, CABLE LENGTH TO EW-CP100=200MM
BATTERY CHARGER SHIMANO BATTERY CHARGER, EC-E8004-2, BUILT IN AC POWER CABLE FOR USA/CANADA
BATTERY CHARGER ADAPTER SHIMANO CHARGING ADAPTER FOR BT-E803x, SM-BTE80
POWER CABLE SHIMANO ATTACHED ON BATTERY CHARGER
SATELLITE SWITCH SHIMANO SATELLITE SYSTEM ON/OFF SWITCH, EW-SW310
SATELLITE CHARGING PORT SHIMANO SATELLITE CHARGING PORT, EW-CP100, CABLE LENGTH TO BM-E803X 200MM
BATTERY LOCK ABUS 86106, SHIMANO INTUBE TYPE IT2 W/T82ASY KEY

Compare to other 28MPH Full Suspension 29er Mid Drive 630WH equipped Electric Mountain Bikes at $9,000 to $8,000


PRICE INCLUDES GROUND TO 48 US
SENT SIGNATURE REQUIRED FOR YOUR PROTECTION

Bikes come up to 90 percent assembled.
We suggest you take it to your local bike shop for final assembly & safety checks.