BikesDirect.com Header Navigation
Save Up to 60% Off Plus FREE SHIP 48 STATES ON ALL BICYCLES FREE SHIP*
Motobecane NEW TAZ3 D12 29er PLUS
NEW Boost 29er PLUS Mountain Bikes with FULL Shimano DEORE1X12 M6100
Click to see enlarged photo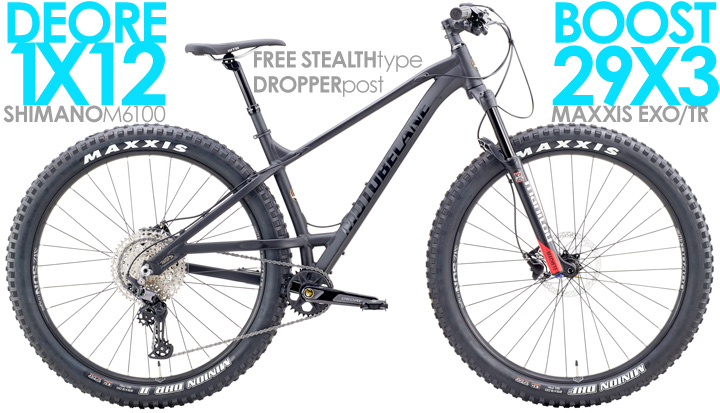 Customers say about Motobecane Plus Tire Bikes: "Flow over anything...brings a smile to my face..."
Did you know? BOOST is the newest axle standard. Designed to optimize wheel strength and tire clearance.
These 29er PLUS Boost mountain bikes are super versatile. Comes with 29er PLUS Boost thru-axle tubeless compatible rim wheels.
29PLUS Tires give you ultimate flotation and Godzilla level trail domination and hill crushing traction. Or make it a super street commuter with a 700c wheel and tire set.
(Alternate wheels/tire sets sold separately. *not all 3.25 inch tires may fit)
Click For: Customer Reviews | Specs | Sizing Guide | Geometry

IMPORTANT: READ THIS PRIOR TO ORDERING

The Deal: Warning: At the special Sale Price, slelections sell out fast
Order now to lock in the current sale price and selection. The price may be up to $100 more later this year.
The Process: When you order, your card will be billed for the full amount. You will then get an automatic email reply by the next business day. For example a Friday order will get an email on Monday. Weekends/Holidays are not counted as "days".

Shipping Address: Please ensure it's correct when ordering. Last minute changes incur delays and/or extra costs. Your address can be changed on the 3rd page of checkout . Click on "change" beside the address. Tracking shows movement in 1 to 2 business days. Most take 5 to 7 days to arrive by Ground (Not inc. weekends/holidays)
Shimano DEORE12 1X12 Front Suspension 29er PLUS Mountain Bikes w/Boost Thru Axles

Motobecane NEW
TAZ3 D12 29er PLUS
SALE $1299.95 (List $2599)
Ships Signature Req'd

FREE Stealthtype DropperPost
Manitou 29erPLUS Forks
Shimano DEORE12 1X DriveTrain
Shimano Hydraulic Disc Brakes
Prolevel Maxxis Tires
Boost ThruAxles Front / Rear

Save up to 60% Off List Prices
Compare to $2200+ Trek Stache 29er PLUS, Specialized Boost / Plus Mtbs


Use pull-down below to select size/color. PullDown May Show Sold Out Sizes. Cart Doesn't Reserve Items. Select Size, Then Checkout. Don't See Size/s? Click> Get Restock Emails.

Comes with SUN RINGLE Tubeless Compatible Wheels worth $600 Alone. Add your own kit, Convert to tubeless = Ride Faster and Lighter*See FAQ Page for setup info

Customers Say: "..unbelievably precise handling, light and strong…...Carves singletrack ...legit ride" Godzilla Level Trail Domination with precision handling and Hill Crushing Traction


We accept Visa/MC/Disc/Amex. PayPal is optional

Price Includes Ground Shipping
to 48 United States
(5 to 7 Day Delivery) (AK/PR/HI addtl charges)
(Email us for Delivery to PO Box/APO/FPO)

We have sold thousands of Motobecane hardtail Titanium and AL mountain bikes. The higher level Titanium 29er PLUS and Boost models have advanced geometrically shaped and butted frames. This tubing is engineered specifically for each platform's purpose. Customers who own Motobecane bikes send friends and family to buy these incredibly capable mountain bikes all the time.
Here is what just a few magazines and bike review sites say:

MOUNTAIN BIKE ACTION
FLY Team 29 Ti XX Edition..."a sight to behold...Motobecane delivers a race-ready bike with the Fly Team 29 Ti XX. ...offers more comfort than almost all aluminum hardtail race bikes and many carbon fiber race bikes. The (10speed) drivetrain is inspiring. And Motobecane put the package together for a great price."
See full review Click HERE
DECLINE MAGAZINE
"The FLY Team(29) swoops around big sweeping, high speed turns like a train on rails and motors across minute trail debris with the same powerful locomotion...The FLY Team(29) seems to go faster and faster...a deal that is hard to pass up, offering a high qualty frame with a rad parts spec."

MOUNTAIN BIKING MAGAZINE
"The FLY 9357 from Motobecane USA is the lightest production hardtail available for under three thousand bucks. The 2.7 pound frame is precision welded from high strength Kinesium aluminum that is 40% stronger than 6061 or 7005 series aluminum."

BIKE MAGAZINE
"This bike is an absolute feather. You can have the lightest bike on the block for about the same price as most people pay for their wheels. The lightweight flyer screams up hills with no hint of bottom bracket flex. How does Motobecane do it?"

MOUNTAIN BIKE ACTION
"IS 19.9 POUNDS TOO LIGHT? How is it possible for Motobecane to sell an under-20-pound (mountain) bike for such an incredible price? One thing is certain; you'll always win in the price department with this incredible deal. The FLY Team makes you feel like a superstar from the git-go. The 19.9 pound FLY Team simply motors."

MOUNTAIN BIKING MAGAZINE
"FLY EAGLE LTD - XC RACE BIKE OF THE YEAR! The more we do the math, the harder it was to believe the price at which the Motobecane package leaves the shop. Performance of the frame and parts spec is on the highest level."
MOUNTAIN BIKE ACTION
"The tight controls and frame angles are so lively it's easy for the rider to find his zone. The FLY rider will have an overwhelming desire to sprint past the front row and take the lead. In or out of the saddle, the 20 pounder retains complete steering precision on ultra steep grades without a hint of bar wagging or oversteering"
MOUNTAIN BIKING MAGAZINE
"The lightest bike that we've tested in the last 2 or 3 years. The FLY 9357 takes you higher, farther and faster than your lactate threshold ever imagined - at a price that isn't too outrageous."
MOUNTAIN BIKING MAGAZINE
"Motobecane has been producing top-notch bikes specific to your needs for decades, and they continue to produce all levels of bikes while remaining focused on the customer. This bike is so light and rigid it seems to pedal itself."
MOUNTAIN BIKE ACTION
"Motobecane's FLY Team Titanium is made from double-butted, multi-shaped 3/2.5 titanium. The finished product is stunning. The frame does a nice job of absorbing the trail chatter, so the rider is not physically punished for the bike's performance."
MOUNTAIN BIKING MAGAZINE
"FAST! That's what all our test riders had to say. This bike climbed like a jet airplane. The FLY is the ideal choice if you're looking an ultra-lightweight hardtail that doubles as a competitive cross country racing machine."

Even when reviewed at list price, magazines feel the Motobecane FLY mountain bikes are incredible values.
When you consider the discount BIKESDIRECT offers on these incredible quality mountain bikes; nothing else comes even close!

Buy one now at a discounted, factory direct price with shipping included to 48 states.
What is a BOOST Bike? Boost is a SRAM technology of using wider axles for optimized wheel and frame geometry. It allows the most optimum wheel strength, weight and tire clearance possible. Versatile- Equipped with 29x3" tires for ultimate flotation and Godzilla Level Trail Domination with precision handling plus Hill Crushing Traction. Or make it a super street commuter with a 700c wheel/ tire set. (Alternate wheels/tire sets sold separately. *not all tires fit)

FLY Team voted Best XC Race Bike of the Year - Mountain Biking Magazine selected the Motobecane FLY Team over Trek, Specialized and many other brands as the best XC Race Bike of the Year (2003).

"An XC Race Bike That's Tough to Beat...Race-Fast and capable of collecting even more trophies" - SingleTracks.com Long Term 29er PLUS Ti Mountain bike Review
Upgrades for Godzilla Level Trail Domination with precision handling
FULL Shimano DEORE12 1X12 Derailleurs and Shifters
Advanced Elevated DriveSide ChainStays- End Chain Slap and increase power response
Powerful SUPER Short chain stays for billy-goat-like climbing with clearance for up to 29x3.25" tires
Front and Rear BOOST spacing Through-axles
NEW BOOST29er PLUS Frame design with Engineered ALUMINUM6061 Butted and Geometric Multishaped tubes
Tapered Head Tube 1.125" to 1.5" Zero Stack for razor-sharp steering response

No corners are cut, the TAZ3 has trail proven components from Shimano, FSA, Maxxis and SunRingle!

This bike will be nothing but a blur as you smoke your riding buddies. Motobecane USA has dialed in a trail and race-proven geometry into this phenomenal ride. The handling is very responsive and yet stable. Singletrack and switchbacks are all handled with ease. Slow speed and high speed, technical and flat-out hammering, you will go faster because this bike is so darn light.

What does this bike compare to? Compare to the $2200+ Treks (www.trekbikes.com) or other $2000 and up 29er PLUS Bikes.

The Motobecane has a top rated Manitou Machete 29PLUS Fork+ Advanced Lockout and Shim Stack tech. The fork alone lists for approx $375+

Wheels: Trek's have a housebrand wheelset. The Motobecane has the brand name SUN RINGLE tubeless compatible wheels (worth up to $600) which are carefully handbuilt. (*See FAQ for tubeless setup info)

Price: Comparable Trek, Giant, Specialized 29Plus hardtails List around $2,000 to 3,000+.
The TAZ3 D12 29erPLUS List is $2599 for the complete bike, Your Hot Sale price is only $1299.95
That's crazy considering the wheels are worth approx $600, Fork is $375 and the Maxxis Tires are $160/pair!
Order Now and save Hundreds off List

Why buy a lower spec bike for more than twice the price? (Price includes Ground ship 48 States )

TAZ3 Sizing Guide
15.5" - 5'4" to 5'6"
17.5" - 5'7" to 5'9"
18.5" - 5'10 to 6'0"
19.5" - 6'1" to 6'3"
21.5" - 6'3 to 6'5"

This is a general guide, please consult the geometry chart. Between sizes? Long arms, torso or legs may want to Size up for higher bars but you may touch when straddling. Size down for shorter arms/torso or legs or if you prefer a more aggressive handling bike and more straddle room. Sizing is a personal preference, the final choice is up to you

Motobecane knows how to design and build 29ers! Here is a great video taken by one of our customers who rode their Motobecane Team 29 Titanium mountain bike in the Leadville 100 MTB Trail race. It's the Powerline descent.
The Leadville Powerline trail is much steeper than it looks...as steep as 27% and averages 7.3% in nearly 4 miles. In comparison, the steepest sections in the Tour de France are at most only 10%. The Leadville course starts out at 10,200ft. Higher than the highest mountain pass ever summited in any Tour de France. The Leadville 100 MTB course does not descend below 9,000 ft and climbs to over 12,000 ft!
How are these Bikes being sold for this Great Price? Other similarly equipped Bikes cost over twice as much.
This is a promotional price for Bikesdirect Early-Order customers ONLY. These Awesome Bikes are selling out rapidly and may be up to $200 more for any that are left instock later. At the current rate of sales, many sizes will be gone soon and may not restock for quite some time.
Refused / Returned Plus/Boost/Fat Bikes: For much larger bikes such as these the return fee would be $100 which is part of the cost of the return shipment and will be deducted from your refund.
Frame
NEW BOOST29er PLUS Frame design with Engineered ALUMINUM6061 Butted and Geometric Multishaped tubes, Advanced Elevated DriveSide ChainStays- End Chain Slap and increase power response, Powerful SUPER Short chain stays for billy-goat-like climbing with clearance for up to 29x3.25" tires, Front and Rear BOOST spacing Through-axles, Tapered Head Tube 1.125" to 1.5" Zero Stack for razor-sharp steering response. HT (46x42/56x52.1mm) L: 39/42/45/47/52CM =100/100/110/110/120mm

Fork

MANITOU Machete Comp 29" PLUS BOOST, Steerer: ALLOY (1.5" to 1-1/8" tapered ) CROWN: Forged, hollow 7050 ALU, STANCHION: 32mm ALU black anod, BLADE: Magnesium, post disc mount , TRAVEL:120mm, BOOST 15X110 Hexlock SL 15 W/Adjustable Rebound. 2 pos. Kwik Toggle (KT). Internal Shim Stack High Speed Damping. -XC Tune-

Crankset

SHIMANO DEORE12 M6100 HOLLOWTECH 175mm 32T

Bottom Bracket

SHIMANO DEORE12 M6100 Threaded BB English

Pedals

VP BLACK PP BODY W/ BLACK CAGE W/9/16" BORON AXLE

Front Derailleur

N/A

Rear Derailleur

SHIMANO DEORE12 M6100 ( 12S ) , Max tooth 51T

Shifters

SHIMANO DEORE12 M6100 TRIGGER 12S

Cassette

SHIMANO DEORE12 M6100 10-51T

Chain

SHIMANO DEORE12 M6100 112LINK 12S

Wheelset

RIMS SUN-RINGLE Duroc 40 Sleeved 29", 32 Hole, Black Ano, With Eyelets, 550g
SPOKE 14Gx64PCS STAINLESS XD-BLACK W/14MM BRASS SILVER NIPPLE
F/HUB SHIMANO DEORE12 FRONT DISC HUB, 2 SEALED BEARINGS, 14*32H ,POLISH ANO BLK, AL 15x110mm
F/HUB THRUAXLE MANITOU BOOST 15x110 Hexlock SL 15.
R/HUB SHIMANO DEORE12 SHIMANO-148 SHIMANO 12S COMPATIBLE , ALLOY DISC, 2 SEALED BEARINGS. POLISH ANO BLK. W/ 12MM THRU HOLE 14*32H.OLN:148MM
R.HUB THRUAxle JTECH QR264R-X12-X 12mm ANO BLACK, 12x148 , L: M12xP1.5x178mm

Tires/Tubes

MAXXIS 29x3.0 Minion DHF, 60tpi, EXO/TR FoldingBead/ 29x3.0 Minion DHR II, 60tpi, EXO/TR, FoldingBead ($200+ worth of Tires)/ Presta Tubes

Brakes

SHIMANO DISC BRAKE SET, MT201/ RESIN PAD, ASMRT30 ROTOR FOR DISC BRAKE, SM-RT30, M 180MM, CENTERLOCK

Brake Levers

SHIMANO DISC BRAKE SET, MT201 HYDRAULIC

Headset

FSA NO.42E/ACB Sealed 1-1/8 ACB Top, 1.5" ACB Btm (for 46/56mm Head Tubes) W/TOP CAP W/15 mm Cone Spacer / 15mm top cover

Handlebar

ALLOY 6061 RISE H/BAR ( 9° ) B/CENTER: 31.8mm.R/W:20/760mm FOR ALL SIZE . SS.A.BK

Stem

ALLOY 6061 A-HEAD .EXT:(6°) 60/70/80/90MM FOR 39/42/45 - 47/52CM C/S: 31.8x28.6x37mm

Grip

VP LOCKON PP/TPR W/ Single Aluminum Clamp, L 135mm , BLACK

Saddle

WTB SL8 COMP , PP Base, Satin Steel Rail, PU Leather Cover

Seat Post

KIND SHOCK DROPPER E-TEN- I ( STEALTH INTERNAL ROUTING) 30.9*385MM, TRAVEL: 100MM W/KGP REMOTE

Seat Post Clamp

SuperLight ALLOY with bolt

Sizes

See pull down

Colors

See Pull Down menu

Our low price saves you Hundreds of $ Compare to... Nothing compares
Ships Signature Req'd for your protection