ALL BIKES FREE SHIP! UPS GROUND 48 STATES
NO SALES TAX Collected 48 States*
*Bikesdirect.com does not collect sales tax except in Texas and Florida

SHIPPING FAQ

How are Bikes shipped?
Within the 50 States, All Bikes ship UPS Ground signature required without exception*
Expedited Shipping is Not available

When will my order arrive? See Transit Times info below the map
We process orders within 24hrs of receiving payment. You'll receive a tracking email from bikesdirectbikes@aol.com once the order is processed.

Orders placed Friday afternoon through Sunday will be processed and shipped the following Monday as UPS Ground does not operate on the weekends.

UPS Ground takes anywhere from 2-7 business days for delivery once a shipment has been picked up. We can not guarantee that your bike would be delivered on or by any specific day or time.

SHIPPING REGIONS
GREEN REGIONS - GOOD TO GO! Free Freight* and No Tax Collected (Important info for Customers in Kentucky, CLICK HERE)
WHITE REGIONS - Puerto Rico, Alaska and Hawaii - No Tax Collected - Add $150 for extra shipping cost per package
Customers can check with their local government to see if purchases are exempt from local taxes; but Bikesdirect.com does not report sales or collect tax; except in Texas and Florida

RED REGION - Bikes shipped within Texas, buyer must pay 8.25% sales tax. The net price for bikes shipped within Texas is the price listed on our site plus 8.25%
PURPLE REGION - Bikes shipped within Florida, buyer must pay 6% sales tax. The net price for bikes shipped within Florida is the price listed on our site plus 6%

ORANGE REGION / CANADA- Limited Availabilty. CLICK HERE for information, Duty and Tax is customers responsibility.

YELLOW REGIONS - (Non-USA Customers, CLICK HERE)

*not responsible for individual UPS driver's actions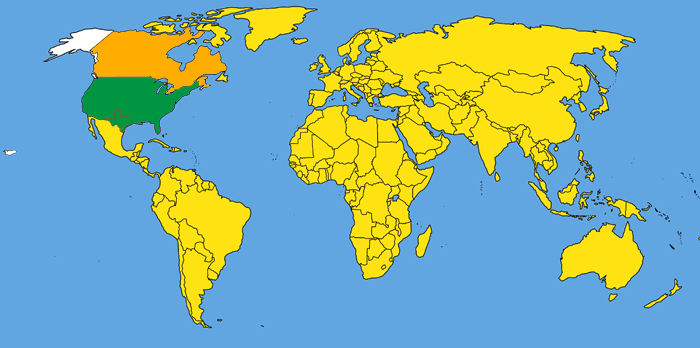 Methods of Shipment
*Bikes are shipped with Signature required to protect ones purchase. UPS Ground is the only level of service available. No other options are available. Expedited Shipping is not available. *Shipping via UPS Ground to green and red regions are included in bike prices.
SIGNATURE REQUIRED
We ship with signature required to protect your purchase. If someone is not available to sign, UPS will make three attempts to deliver. Each time, UPS leaves a note so customers can make other arrangements. If the shipment is returned, customers are responsible for a nominal re-shipment cost.
TRANSIT TIMES
Most orders arrive in 3 to 7 business days transit time. It takes 1 to 2 days for order processing. This is a possible total of up to 10 days. These times are not guaranteed nor refundable if delays occur. Please, Shipping times Do not count weekends or holidays as business days). Please be aware that Weather and other conditions beyond our control may also cause delays.
Changes made to orders in transit may incur additional charges or may not be possible.

Have more questions? - Please E-mail us for a quote and procedure CLICK HERE